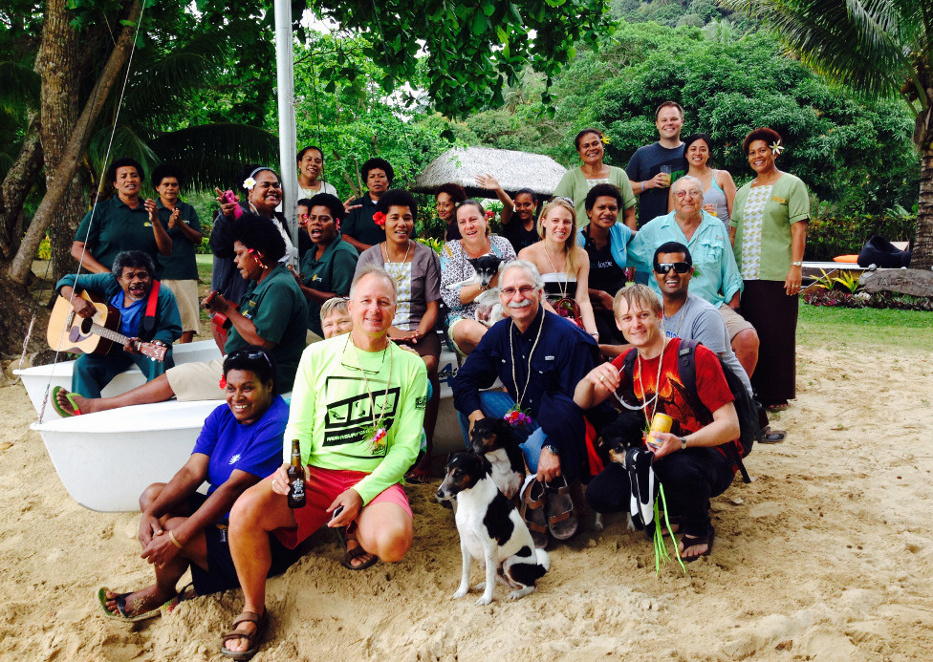 The John Pohle Family on a snorkeling & diving getaway to Matangi Island Resort, Fiji.


Welcome to the Home Page of the U.S. Dive Travel Network ! We are tropical vacation experts, wholesalers of exotic & affordable holidays for snorkelers & scuba divers. The USDT team is pleased to offer you the largest & most info-rich website for dive vacations on the Worldwide Web -- more than 777,000 words of text + more than 3,000 photos & graphics. To zip from this Home Page to our dive resorts, liveaboards, snorkeling vacations, beach vacations, jungle eco-tours, Mayan ruins or tropical honeymoon holidays -- in 35+ colorful countries -- or to check our Info Kits for dive tours, click on the bright blue hot-links. You'll link in a blink to any files you choose - whether Hawaii vacation, South Pacific getaway, liveaboard holiday, Caribbean dive trip or Guanaja dive trip. We are travel agents specializing in amazing scuba diving vacations.
"Get Wet Without Getting Soaked !"
TM
This virtual vacation catalog offers you one-stop shopping for all tropical travelers. We are scuba diving vacation specialists, each with more than 40 years of trip-planning experience in Central America, South America, the Hawaiian Islands, the South Pacific, Micronesia & Oz. U.S. Dive Travel was soft-launched in March of '90, and had our debut on the pre-Web Usenet in early 1991. Then in '95 we were among the first wholesalers in the USA to launch a website for tropical island getaways -- to serve our busy professional clients better. USDT Network now operates the longest-running website for dive resorts, live-aboards & snorkeling vacations on the Internet -- for 28 of our 32 USDT years we've worked on the Web. We're saddened to see so many dive trip wholesalers pounded by this viciously see-sawing economy. But we're still sailing strong -- steady as she goes -- exploring & offering new tropical islands each year. We're an ultra-experienced family firm with a fiscally responsible client-centered business model. Our dive trips to the Caribbean & Pacific are planned by experienced experts who share your passion for tropical vacations. Here's your data hub for best liveaboard packages, yacht charters, best South Pacific honeymoons, best Caribbean honeymoons, tropical holiday innovations, liveaboards around the world, or snorkeling tours. Time to travel with panache -- your liveaboards & Pacific islands are here, amigos del mar.
"Life's a Beach, & then you Dive !"
TM
If you need to reserve lodging, dive tours, live-aboards, group charters, an overseas guide or any customized dive vacations, give us a call. Our dive travel team offers you prompt, friendly service that's accurate & insightful. In the world of dive packages, we've set the pace for vision & creativity. Our many loyal repeat clients include corporate groups, high-rev professionals, adventuresome singles, couples from all walks of life, families with young kids or teens, retired travelers, research expeditions, dive shops, private schools, scuba clubs & travel professionals around the world. U.S. Dive Travel Network clients hail from cities across North America, South America, Asia & Europe -- a bona fide Global Village of snorkeling & scuba diving enthusiasts, all stoked on tropical vacations.
A Dedicated Diver's Motto: "I Sink Therefore I Am !"
TM
Our clients become friends, first & foremost. Our primary products are sound judgment & deep overseas experience. Your satisfaction is our success -- period. Thanks for visiting the ever-evolving website of U.S. Dive Travel Network. We're delighted you dropped by ! There's an ideal tropical island out there -- just ripe for snorkeling vacations or scuba diving trips -- & just right for you. Choose your ideal cruise, hotel, charter, best tropical honeymoon resort, liveaboard or dream tour. Need a Hawaii vacation, Caribbean vacation or a South Pacific honeymoon? How about a Bay Islands tropical honeymoon package? Hard to believe Guanaja's mere hours from the USA ! Check Fiji if you crave Pacific eye candy .... It's all here, island funseekers, & it's all
"TROPIDELIC!"