© Copyright U.S. Dive Travel Network.


HAWAII DIVING MAGIC: MILES of ISLES +

HAWAII SNORKELING VACATIONS +

HAWAII BEACH VACATIONS:


Kauai, Niihau, Waikiki Beach of Oahu, Maui &
the beautiful friendly Kona Coast on the
Big Island of Hawaii + a lush escape,
a verdant pearl, sweet li'l Molokai !


By John Hessburg
Founding Partner & General Mgr
U.S. Dive Travel Network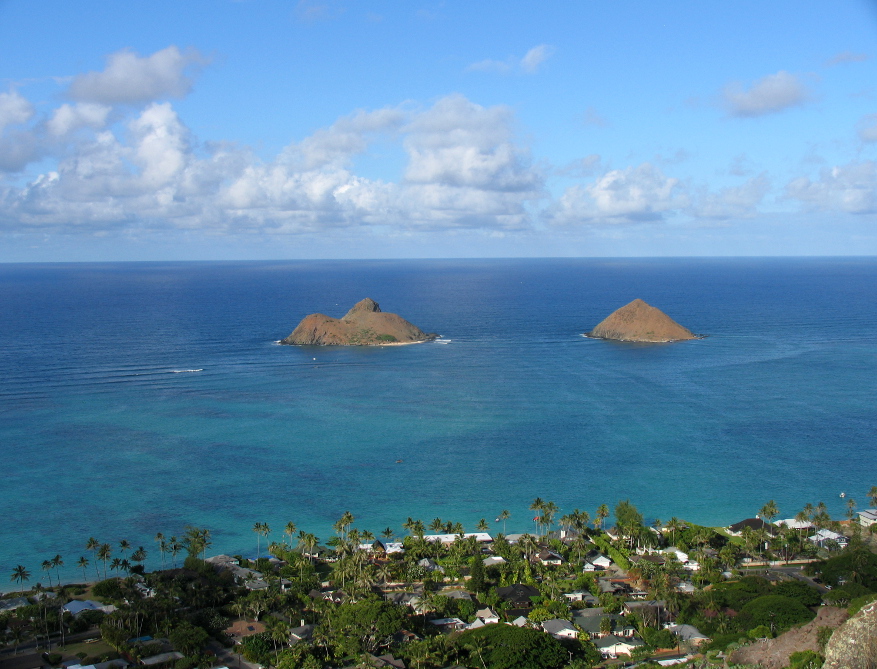 Evening sun bathes "The Mokes" -- protected isles near USDT/West -- the heart 'n' soul of U.S. Dive Travel.
© Copyright John Hessburg, U.S. Dive Travel Network. All rights reserved, all photos & text.





OK, take a break; it's time for a tropical riddle. What do Tuesday night TV, Thanksgiving dinner with the folks & Hawaii scuba diving -- also Hawaii snorkeling & Hawaii beach vacations -- all have in common?


Four words, funseekers. They're all: predictable, close, lively & cheap. Cheap entertainment, that is.

And that is the refreshing undercurrent of diving, snorkeling, surfing or lolly-gagging beachside in the Hawaiian Islands. Whether by boat or by shore, the scuba diving, the mellow snorkeling, & the beach basking in this oft under-rated archipelago are:

PREDICTABLE -- If you stick with heads-up surge technique, respect the dive tables & avoid deep pocket coves in big water, your safety is virtually guaranteed. You won't get to wallow amongst vast billowy corals anywhere, but you're likely to enjoy some big critter encounters, from muscular whitetip sharks to curious, serenely gliding green sea turtles to dozens of gaping moray eels, who sway from their crannies like cobras charmed by some sea swami. Hotels & resorts on these Neighbor Islands are on their toes these days, & clients report to us that customer service is at an all-time high, while prices have been pared back nearly to the 1990s in special locales. Hawaii beach vacations, Hawaii snorkeling trips, Hawaii scuba diving vacations now offer some of the sweetest bargains on the travel planet. Susan & I will vouch for this: we've been blessed to visit the Hawaiian Islands 24 times since 1990, for more than 3 dozen unique island visits, some as long as 6 weeks a stay. And we still can't get enough of this magnificent island chain. Hawaii diving, Hawaii snorkeling, Hawaii waves get into your blood, friends, & that heady feeling just keeps calling you back like some seductive Siren song.
CLOSE -- If you live anywhere West of Denver, flight times & fares to Hawaii are duck soup. The Honolulu hub is about 5 ½ hours from L.A. or Seattle, only 5 hours from San Francisco. Then it's just a quick hop to the Neighbor Islands: only about 41 minutes to Kona, or 35 minutes to Kauai or Maui. Hawaiian Airlines & Delta Northwest offer random specials that sometimes seem astonishing for their sheer value. Even from landlocked Minneapolis, we can easily grab non-stop e-tix for the low $800's, round-trip, with careful planning & a ready speed-dial finger. Non-stop flights on Delta NW from the Twin Cities, Chicago & other heartland cities can take as little as 8+ hours outbound & less than 7 hours return! Thanks to the cool new breed of Boeing & AirBus birds, these flights are streamlined delightful zippety-doo's.
LIVELY -- If you like scores of small critters lurking in compact coralheads, Hawaii is the ticket. Don't forget about the grinning sea turtles, big as 18-wheeler hubcaps, who glide by so close to your mask they nearly lobby you to Save the Whales. Waikiki Beach on Oahu may be a tourist magnet, but it's big-time fun for folks learning to longboard surf, or who just want a great beach escape by day, superb eats by night & endless affordable entertainment. Windward Oahu & West Maui offer some of the world's most unspoiled, breath-takingly lovely beaches. Our frame of reference is solid. Having spent several years, cumulatively, in 30+ tropical island countries around the world since the 1970s, we never have found any beaches that can beat the gems of windward Oahu & West Maui. The Hawaiian Islands are a bone fide American treasure.
CHEAP -- If you scoot with early deposits, you can beat the airlines' pricing games. Find a reliable dive travel wholesaler who knows these islands well. Never buy air tix at exorbitant published fares if you can avoid it & travel during low seasons. That means Christmas, Thanksgiving & Spring Break are war zones, amigos. We have found beautiful, sweet-spirited little family-run hotels on Maui & the Kona Coast that still come in well south of $200 a night. The deals are there, & we can help you find them, in short order. One thing though .... if you hazard a Kona booking during the annual Ironman Triathlon in October, you'll find rooms on the Big Island as abundant as consciences in a school of tiger sharks.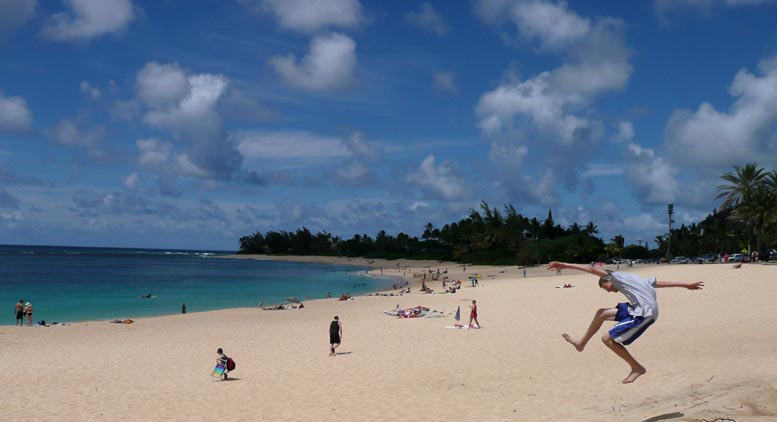 © Copyright U.S. Dive Travel Network. All rights reserved for all photos on this page.
Hot sand or happy feet? Clean, serene Sandy Beach glows on Oahu island's North Shore.

Shark-bashing aside, consider the myopic myth that Hawaii diving is ho-hum, just because it is not the Red Sea, Papua New Guinea or Fiji. Would you feel less alive on a coastal highway, on a perfectly sunny day, if you were powering a navy blue mini-van into the 'S' curves, instead of a brand-new flaming red Corvette?

If your honest answer is yes, please read no further. Sorry amigo, your maritime appetites are way too exotic for Hawaii vacations. Now, for the rest of us happy working stiffs, here's a little reality check. It's true that virtually none of the Hawaiian shores offer the same mind-expanding lushness of Fijian corals, nor the flamboyant diversity of rare reef species in Papua New Guinea. But so what? Vacations need not be like edgy "reality TV", always reaching for the next EXTREME this or MEGA that. Sometimes aren't vacations supposed to be about, well, just VACATING? (Vacating the brain of stress & gritty city living, right?) OK, are we rollin' along together? Great, let's keeping movin' in true Aloha Spirit ...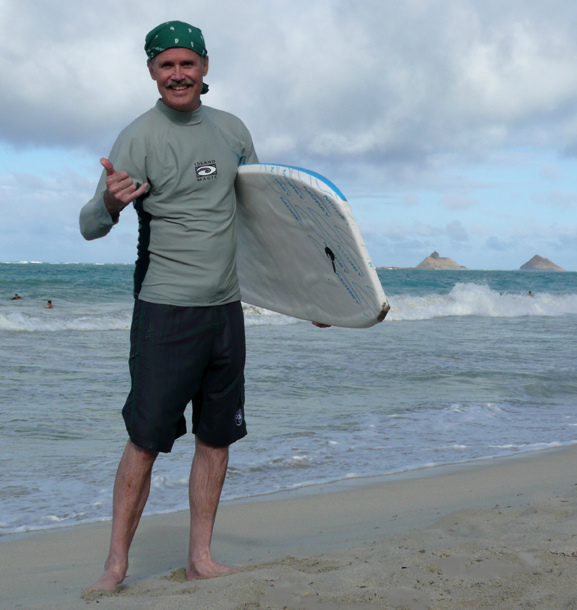 U.S. Dive Travel founder John Hessburg welcomes our wonderful snorkeling & diving guests,
from Asia, Europe, Canada, Latino America & the USA, to our beloved home island of Oahu.
John's takin' a breather between sets, boogie boarding at Kalama, Oahu's Kailua Beach Park.
© Copyright Susan Hessburg, U.S. Dive Travel Network.

Next issue: this lame stereotype of "Hawaii as Waikiki" -- let's pound that one into the sand, 6 feet under. Hawaii is SO much more than loud aloha shirts & sunset grass-skirt dance revues. While thousands of good people each year really have a blast in Honolulu, there is more to see in the Neighbor Islands, sunseekers. Let's set aside the Madison Avenue imagery. Instead, here is what Hawaii vacations ARE, what Hawaii diving IS, & most of our local Neighbor Island friends agree:

The eerie, convoluted shapes of lava tubes & the myriad sprightly species they shelter. These ancient lava flows have been worn into archways, collapsed tunnels & rocky runnels that jut underwater from the shores of West Maui, South Lanai, the Kona Coast & South Kauai, to name a few locales. The countless nooks, slots & grottoes inside these lava flows - called pukas by the locals -- are cool little condos for countless species from night-flitting octopi & pufferfish to squirrelfish, bizarre crabs & brilliant sea stars.
The healthiest & most playful sea turtles you're likely to see anywhere in Polynesia, especially off the shores of South Kauai, Southwest Maui & the Kona Coast (southwest flank of Hawaii, "The Big Island.") I'll never forget that old three-legged green turtle, who for years regaled divers off Kauai's southern shores. The locals called him "Tripod." Seems a nasty whitetip chomped him once. I really hope he's still around, & not a Bipod today.
The scores of curious, mouthy moray eels - yellow margins, snowflakes & whitemouths - that seem to rule these reefs like nosy washroom narcs in Singapore. Morays, morays, & more rays - than you can count in a lifetime - that is Hawaii scuba diving.
My favorite greeting to scuba newbies in Hawaii is to lampoon that old Dean Martin song, "When the moon hits your eye, like a big pizza pie... '' The parody goes: "Put your hand in a crack, if you don't get it back, it's a moray ...If it's toothy & brown & it's dragging you down, it's a moray..." That's one way to get the "Don't-Touch-Don't-Filch" eco-message across in Hawaii diving circles.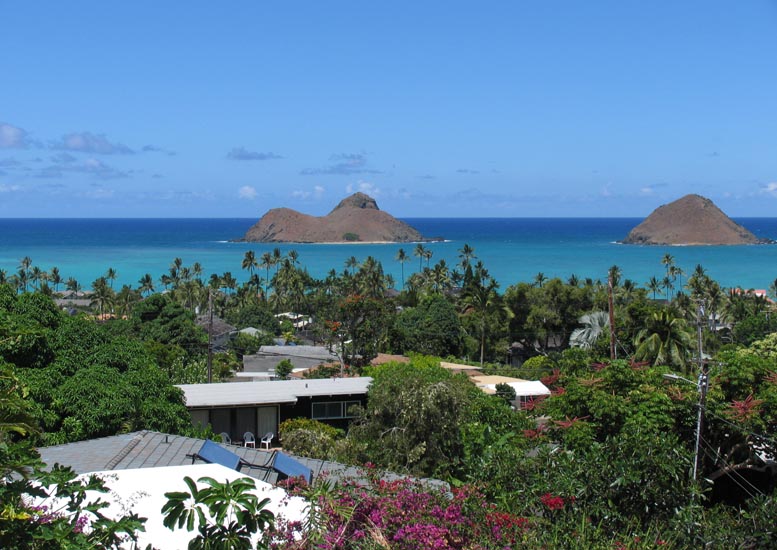 © Copyright John Hessburg, U.S. Dive Travel. ( Home is where the heart resides: in 24 years, 24 trips, 85 weeks of Hawaii diving, hiking, surfing, laughter. )

Let's move on. We dive Hawaii because it's there -- pure & simple. Hawaii diving is a reliable alternative to that sinus-searing jolt -- you know, the mammal diving reflex -- when you first plant your face in the way-cooooold water of Monterey, Catalina, Puget Sound or the Jersey shores.

I'll concede that Hawaii diving is less like some Peter Max vista from Yellow Submarine & more like a sere Mexican high desert transplanted underwater. Still, this is a fun & fascinating world, self-contained, beautiful in its own right. And it sure beats muck diving in bone-cold mainland lakes with 10-foot "viz," mummified in a 7-mill wetsuit that chafes you where tropical sun jess don' shine.
Despite the intrusions of mainland culture, in one very literal sense, Hawaii scuba diving is still exotic & remote. Remember that the Hawaiian Island chain is actually the northern apex of the Polynesian Triangle, also bounded by Easter Island & New Zealand. The state of Hawaii is the most remote island cluster -- furthest from any continental land mass -- of any Pacific island chain.

---
For fun HAWAII DIVING, HAWAII SNORKELING & HAWAII VACATIONS,
planned with true ALOHA SPIRIT & decades of island expertise,
please feel free to call our USDT reservations office -- 952-953-4124
---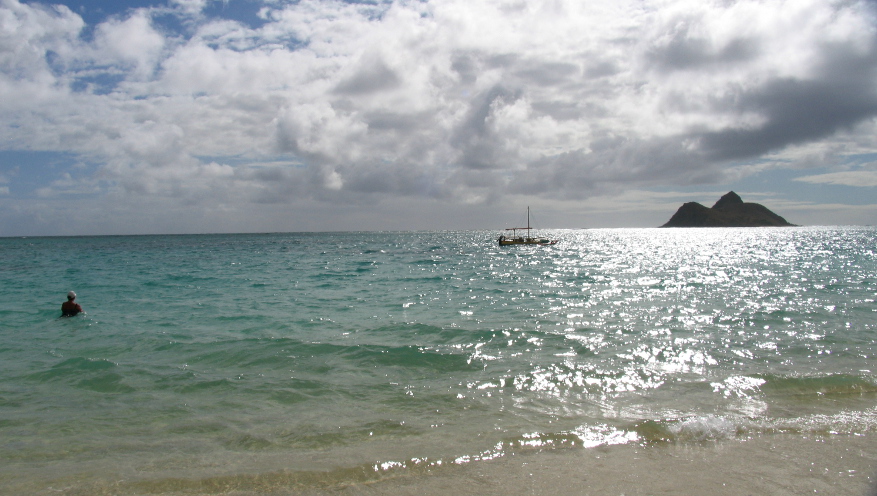 Sunrise silver-glazes the clean waters off Lanikai, O'ahu, home beach of U.S. Dive Travel / West.
© Copyright John Hessburg, U.S. Dive Travel Network. All rights reserved.

1,500 MILES of HAWAIIAN ISLES !
The official Hawaiian Archipelago, as depicted on Pacific charts, encompasses more than 130 islands, some just random rocky pinnacles. The Hawaiian Island chain sprawls westward from the Big Island, more than 1,500 miles, past even Midway Island, all the way out to Kure Atoll. Old Hawaiian fishermen & charter skippers, whom I've interviewed, say that from Niihau westward to Midway Island you'll find some of the wildest, most shark-rich waters in the Pacific.

My wife Susan was blessed to grow up on windward Oahu, in a lovely seaside village near Kailua, where she lived two decades & change. Now, after many lively visits since 1990, to seven of Hawaii's eight Neighbor Islands, we have acquired a keen taste for free diving & scuba diving on Niihau, Kauai, Oahu, Molokai, Lanai, Maui & the Big Island. We have a sense of how the winds & waves will treat us, no matter what month we show up. The more we see, the more we know we have missed. It feels we are just beginning to understand the deep soul of these wonderful isles after crossing the Big Blue more than 24 times from the mainland since 1990 to relish the Hawaiian scuba diving, free diving, mountain hiking, beach ramblin', boogie boarding & scores of photo treks. Hawaii diving never seems to disappoint us.

Caring for these magical islands is not unlike being parents of seven spirited & precocious children. You really have no favorites -- only alternate delights. Sometimes, some days, you just want to hang with one kid a little more than another. No reason, just whimsy. Every day is different. No politics, just the drifty breezy vagaries of "mana ohana" -- Hawaiian family spirit.

NI'IHAU & KAUA'I:
We love Ni'ihau for its edgy wilderness feel, it's brooding mystery & its effulgent reef life. We love Niihau's sister island, Kauai, for its magnificent Waimea Canyon vistas, its spiritually arousing 12 miles of Na Pali Coast Trail & the dynamic daily coral & critter surprises of South Shore diving. Ni'ihau diving is almost a sacred experience. Kauai diving offers heart-starting currents & critter surprises. Ni'ihau diving is Hawaii's ultimate gift to the scuba diving world.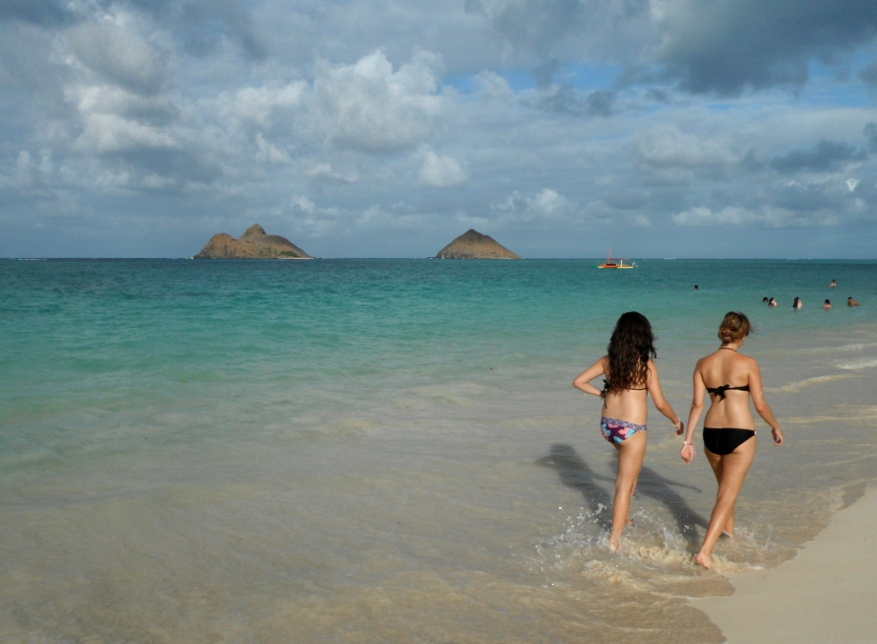 Every evening, the sunset gilds Lanikai waters with a magical bronzy-gold sheen.
© Copyright John Hessburg, U.S. Dive Travel Network. All rights reserved.

OAHU:
We love Oahu for a few great little secret shore dives we've collected over the years, & for the healing beauty of the Ko'olau Mountains, for the stunning hidden beaches of perfect sugar sand we have discovered, for some of the finest long running beaches in the Pacific, & for the beatiful "hapa-haole" children of this island, who are a healthy meld of so many Polynesian, Asian & American family roots. The World Look of exotic racial mixes is ultra-hip among New York fashion circles now, & Oahu has had this chic gene pool in full swing for more than a century. In fact, after about 50 extended visits to island groups across the Pacific, we feel the people & culture of Oahu, the eye-candy beaches of Oahu, still rank among the most movingly beautiful in the world. Then there are the healthy & fascinating reefs. Granted, Oahu diving is not brilliant, but it sure is a gas. It sure is relaxing, entertaining & visually rewarding. And because Oahu diving is so accessible to mainlanders, it's a great value, too.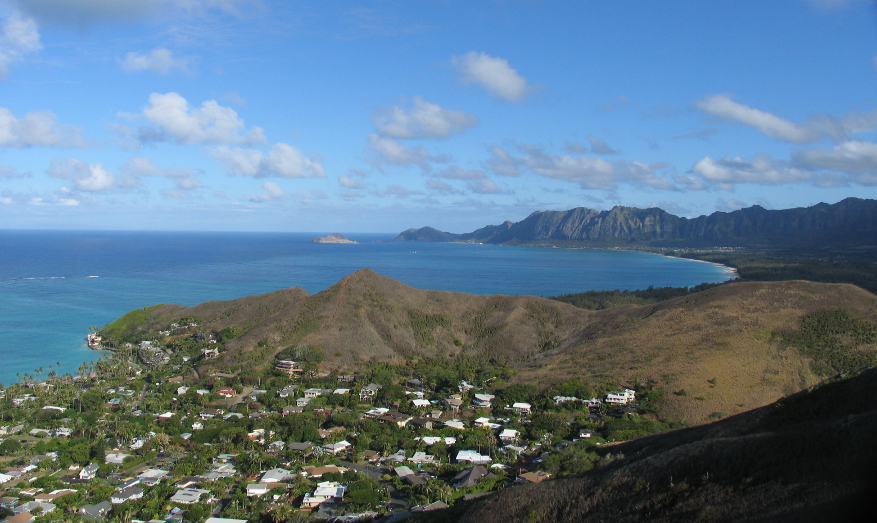 View from the mountain ridgeline just above USDT/West on windward O'ahu...
© Copyright John Hessburg, U.S. Dive Travel Network. All rights reserved.

MAUI:
We love Maui for the deep, cool canyons of the Kola Mountains, the laid-back Big Easy feeling of Old Lahaina Town, the quasi-baronial splendor of the hotels on the Kaanapali & Wailea coasts, the venerable winding road to Hana with its heart-starting cliffside vistas (& dropoffs!), the great hulking volcano Haleakala (House of the Sun), a 10,023-foot verdant behemoth that dominates the island's every skyline; & we love Maui diving for its awesome easy shore dives, its huge friendly sea turtles & the easy vessel access across the channel to stellar South Shore Lanai diving. Oahu & Maui are still the most popular islands for Hawaii dive packages. Maui diving is a double-shot of life & color. Maui diving is well worth the trip.

MOLOKA'I:
We love Moloka'i for its compelling history of the modern saint Father Damien & his leper colony, for the astonishing glory of the Halawa Valley waterfalls & deep jungle trails on its eastern flanks, & for about 28 miles of kaleidoscopic virgin corals, steep walls & fish-rich crevices along the South Shore. If we ever move to the Hawaiian Islands, this is the island that we'd look at first. Moloka'i is one of the few truly unspoiled islands left in the Central Pacific -- a happy half century removed from the madness & bustle of the Year 2,000. Moloka'i diving means nearly pristine coral colonies & huge lobsters by the scores.

LANA'I:
We love Lanai for its brilliant Manele Bay Hotel & the Lodge at Koele, two of the most wonderful luxury hotels we have seen anywhere on the planet, & for Lanai's vast, vaulted underwater caverns just exploding with frisky marine life. Lanai diving paints lifetime memories as deep as the gullies in your pocketbook. But hey, what are dollars for, if not to enjoy? Lanai diving is one atypical way to invest long green, we think.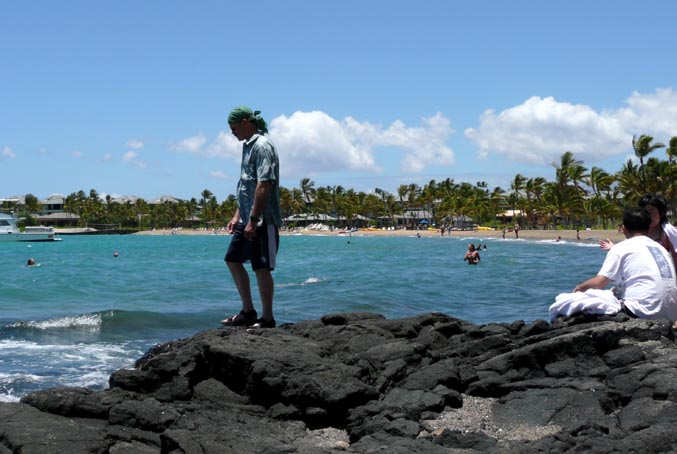 © Copyright Susan Hessburg, U.S. Dive Travel. ( Breezy moment on the Big Island's Kohala Coast, at Waikoloa Beach. )


HAWAI'I, the BIG ISLAND:
Finally, we love the Big Island, Hawaii, after whom this great state was named, for its two 13,700-foot snowclad volcanoes -- Mauna Kea & Mauna Loa -- for its hundreds of miles of prime coastline vistas, for countless pristine waterfalls that cascade off the mountains' Hilo-side flanks, for the great turtle diving right near Kona Village, & for the warm, familial feel the locals impart to visitors. The Big Island & Molokai are really the most Polynesian & old-fashioned of the Neighbor Islands, where you'll still find abundant aloha spirit & a relaxed neighborly attitude almost everywhere you go. Kona diving is lava-tube satori. Kona diving offers the best natural leeward shores in Hawaii. Kona diving is easy & fun.


KAHO'OLAWE:
Did we leave anybody out of our Big Ohana? Darn right, we forgot Kaho'olawe, that bizarre old forgotten island just off the southwestern flanks of Maui. For decades the U.S. military has used poor Kaho'olawe as an ordnance sponge, a Ground Zero for year after year of target practice -- battleship shelling & warplane bombing runs. Now the conventional wisdom is all that all you'd find alive topside on Kaho'olawe are scruffy mesquite bushes & a few psychotic stumbling goats. Who knows?

Only a few island people ever have set foot on this intriguing dusty island; & very few ever have scuba dived her shell-shocked flanks. Word has it that a few stalwart Maui divers have slipped over to Kaho'olawe unnoticed for some outstanding reef & cavern diving, dodging the piles of deadly live ordnance that litter the ocean floor everywhere. Some day we may mount a diving expedition to Kaho'olawe, once the government opens it back up to islanders. A few native Hawaiians are clamoring for Kaho'olawe to be turned back over to the Hawaiian people, since they regard this island as a sacred site. Stay tuned, funseekers of the strange & wild; we may have some Kaho'olawe diving news on the Hawaii scuba diving front in a year or so.
---
For fun HAWAII DIVING, HAWAII SNORKELING & HAWAII VACATIONS,
planned with true ALOHA SPIRIT & decades of island expertise,
please feel free to call our USDT reservations office -- 952-953-4124
---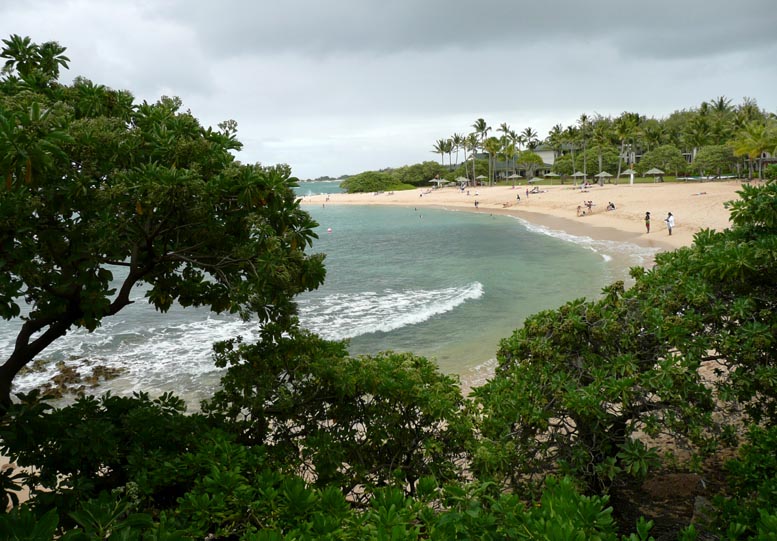 © Copyright John Hessburg, U.S. Dive Travel. ( Turtle Bay Beach, North Shore Oahu, Hawaii, just before a mild summer squall. )

The BEST DIVING SEASONS in HAWAII:
Barring weather aberrations, you normally can count on the best diving conditions, on any island's leeward flanks, from May through September. April & October are fringe seasons when it's pleasantly warm, but rain & winds might be more frequent than in summer. March can be one ripsnorting wind tunnel on several of the islands. The rest of the winter is a toss of the dice for Hawaii dive travel.

Still, the November through March period offers excellent diving options, if you avoid northern swells, & shorelines exposed to the heavy easterlies, & if you seek the vast volcano-shielded lees that Maui & the Big Island offer. Because it's a smaller, rounder island than its sisters, Kauai's seas can offer some Maytag action in mid-winter, but your specie sightings are well worth the churn.

From November through March, among our favorite shores for boat & beach dives are Southwest Maui, South Lanai & the ever-reliable Kona Coast. There are many more primo spots for Hawaii dive vacations, some so sacred to the locals that if we even mentioned them we'd be, well, courting a stink-eye on our next trip. So we'll leave a little to the imagination.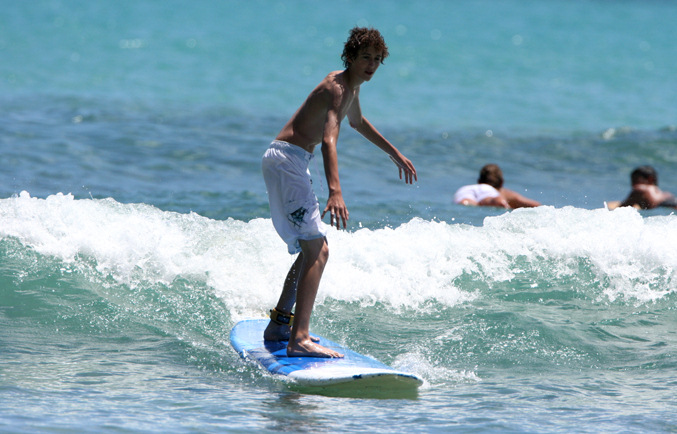 Jack Hessburg catches a mid-August wave at Waikiki Beach on Oahu Island, Hawaii.
© Copyright U.S. Dive Travel Network. All rights reserved.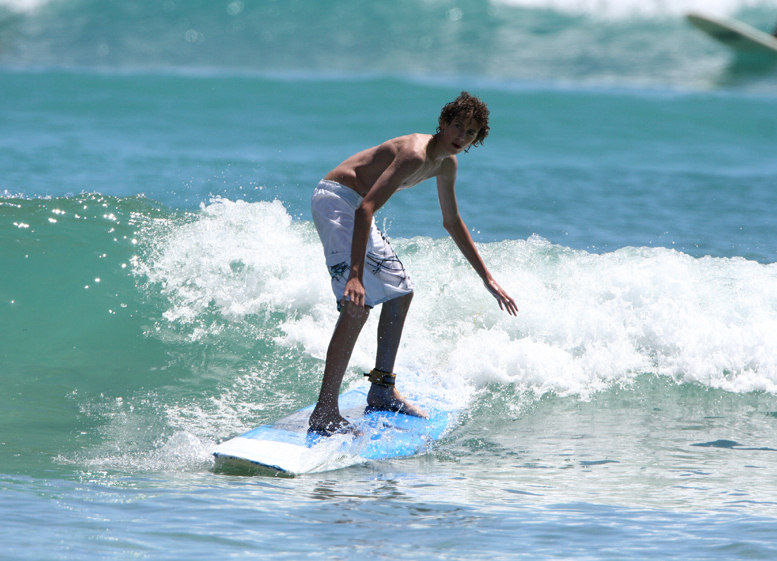 Jack Hessburg enjoying a refreshing afternoon, longboard surfing at Oahu's Waikiki Beach.
© Copyright U.S. Dive Travel Network. All rights reserved.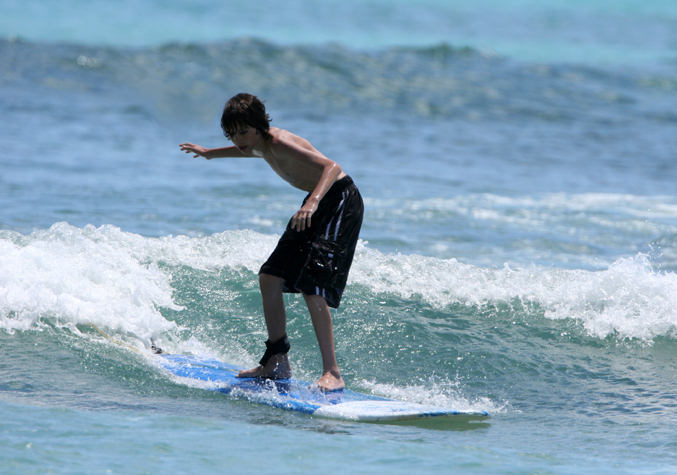 Bo Hessburg nails it 1st try, 1st lesson, longboard surfing at Oahu's Waikiki Beach.
© Copyright U.S. Dive Travel Network. All rights reserved.

---
For fun HAWAII DIVING, HAWAII SNORKELING & HAWAII VACATIONS,
planned with true ALOHA SPIRIT & decades of island expertise,
please feel free to call our USDT reservations office -- 952-953-4124
---
COME on in, da WADDAH'S FINE,
JUSS DON' FO'GET YOU WETSUIT, BRADDAH!
Imagination is cool, but in some Hawaii diving matters, we need to be specific. Take staying warm for example. Clients often ask us, "Do I really need a 3-mill wetsuit for Hawaii?" The answer is a resounding "yes!" - unless you're gifted with the high-rev metabolism of a spider monkey. All year around, summer & winter, we wear our trusty dusty 3-millimeter suits, ankles to neck & heck with the shorties.

The shallow water temps in winter might dip to the mid-70s Fahrenheit on many islands; while summer brings you the balmy seas in the high 70s to low 80s. The warmest water we've ever experienced while Hawaii diving has been off West Maui in late summer. There seems to be some mystical heat pocket out there, & virtually no thermoclines down to 60 feet at many dive sites. It's truly amazing.

But it takes more than warm water temps to kindle a great dive vacation. Let's review some topside & underwater highlights of Molokai island, then Kauai & it's sister isle Niihau, then Maui & Lanai, then the Big Island or "da kine beeg eye-lin," in the local Pidgin dialect.

MOLOKAI island --
Click here to visit U.S. Dive Travel's colorful new Molokai diving & eco-touring page !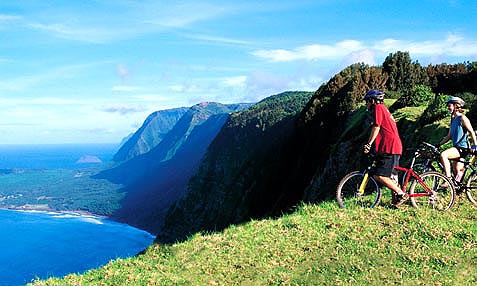 Thrilling mountain bike tours atop 3,900-foot Molokai Sea Cliffs,
above Kalaupapa Peninsula, where Father Damien once worked.
© Starwood / Molokai Lodge.



At long last, the shy little isle of Molokai is opening up soon for scuba diving vacations. And we are feeling stoked, funseekers, after waiting 20 years for this moment! Molokai is so rarely visited by North American tourists, we sense a watershed moment here for serious snorkelers & scuba divers, who like us are searching for something fresh, sweet-spirited & untrampled, a little wild & yet still comfy. Visually compelling, spiritually invigorating, emotionally healing. We call that a "Tropidelic" Hawaii vacation! You can find something for everybody on Molokai -- scuba diving, snorkeling, mountain biking along 3,900-ft sea cliffs, archery, horseback riding, skeet shooting, serious hiking & mountain trekking, sea kayaking & cultural tours.

The original Sheraton MOLOKAI RANCH LODGE

, is a classic hunting lodgy 4-star luxury getaway, with a huge Great Room & massive log beams & buttresses, a chandelier & wood paneling Robert Redford might envy in his mountain retreat. The crystal-clear pool, glowing green lawns & indigenous-flora garden are something to behold, & the meals are more art than cuisine. We were treated like ohana (family) by all the staff & it felt so much like home after a few hours, we had to pry ourselves away to take the tours.

There's also the new Sheraton KAUPOA BEACH CAMP, is an astonishing place, unique in the Pacific -- a cushy tent-bungalow village on the wild west end of the island. There are 40 neatly built "tentalows" & they are 100% comfortable, clean, right near the two pocket cove beaches. These sturdy high-walled canvas bungalows, stretched over aluminum frames, are built atop spacious wooden platforms with a bathroom, huge hotwater shower & a private deck. The showers & toilets are super-clean & solar powered, designed impeccably for minimal impact on the earth. Honkin' big healthy wild turkeys strut the grounds like they own the place, & rare Hawaiian monk seals flop around happily all over the beaches, wherever they feel like planting their blubber. This is stylish tropical camping, amigos, & perfect for families with kids, big church groups, or a passel of dive shop buddies from Michigan. It's a cool new take on 21st century camping.

KAUA'I: The GARDEN ISLAND.
Click here to visit U.S. Dive Travel's colorful new Niihau / Kauai diving page !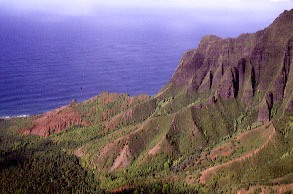 One of the many adventure highlights of Kauai
is the other-worldly beauty of the Na Pali Coast,
here washed by a red & amber summer sunset.
E6 chopper vista by John Hessburg, circa Dec. 1991.

In September of '92, Hurricane Iniki lambasted Kauai, leveling homes, splintering boats & smashing most of what it touched. The island has staged a brilliant comeback. Hotels are in fine form, dive guides are working hard & the plant life is bouncing back. There's still serious work to be done, but the worst is over. Kauai is well worth the visit, just as it was pre-Iniki.

Locals boast that Mount Waialeale, geologic core of Kauai, is the wettest place on Earth. Scientific charts agree. Though the rain stays mainly in the island's center, it nurtures incredibly lush verdure, flowers & palms on all flanks of the highlands, right down to the sea. This island is green beyond green.

The Na Pali Coast Trail, on Kauai's NW shore, is about 12 miles of the most magnificent tropical hiking I've ever seen anywhere in Polynesia. It's like a living poem to purity from a past century.

The most reliable diving, most of the year, is along Kauai's protected South Shore, from Poipu west to about Port Allen. The corals & fish are rebounding well from Iniki's near kiss of death, according to instructor Kenny Bail, owner of Bubbles Below dive center, & one of the most respected veteran dive guides in the state. There are spicier reefs, for certain, near Hanalei to the North (where celebrity sightings are a dime a dozen) & Barking Sands to the Southwest (don't even ask), but they are simply harder to dive much of the year, due to fuel costs, exposure to gnarly northern swell, & brisk chop from periodic Kona winds.

"Unusual critters, that's what Kauai is all about," says Mr. Niki Konstantinou, an ace underwater photographer & divemaster with Bubbles Below, who has studied Kauai dive sites for 15 years. "I feel the best single critter site in Hawaii is at Amber's Arches, near Kauai's Southwest corner," he exults. "It's a huge arch, just painted on the ceiling with orange, yellow & green cup corals. The colors are fabulous! You regularly find frogfish, puffers, hairy hermits, bi-colored anthias, ghost shrimp & manta shrimp, plus dozens of slipper lobsters & big sponge crabs."

Amber's Arches are dived at about 55 to 75 feet, & nearby is a cool cave, low-ceilinged & mysterious, that houses a couple healthy whitetip sharks. There also are several large black coral trees with bristly turkeyfish lounging in their branches, plus scads of long-nosed hawkfish. So what are you waiting for, amigos del mar?

NI'IHAU: The FORBIDDEN ISLAND.
Click here to visit U.S. Dive Travel's colorful new Niihau / Kauai diving page !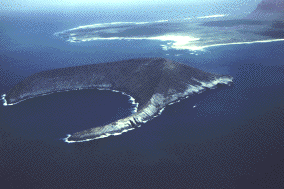 Among the most coveted dive destinations in the Pacific,
the Mystery Isle of Ni'ihau, last refuge for native Hawaiians,
is visited by only a lucky few scuba divers each summer.
Photo by Ken Bail, veteran scuba diving guide, Kauai.

For decades Niihau (NEE-ee-how), about 17 miles off the southwest coast of Kauai, has been strictly off-limits to interlopers. No person can set foot on this island without special permission, which rarely is granted by the island's owners. Mystery cloaks this strange little isle, because it is tightly held by the reclusive Robinson clan of Kauai, & because Niihau is the last pure sanctuary of native Hawaiian culture left in all of Polynesia. About 200 native Hawaiians still live full-time on Niihau. They practice many of the ancient village customs & speak the time-honored musical tongue of pre-missionary Hawaii.
For all these reasons, plus the fact there are only a few months each year when the winds & weather permit a safe crossing, the scuba diving is ultra-virgin all around Niihau. Some of the finest hard corals I've ever seen while Hawaii diving are common visual treasures at Niihau. Best time to try a crossing of the formidable Kaulakahi Channel is August or September. It's catch-as-catch-can. That makes the forbidden fruit all the sweeter.
Many popular Niihau dive sites are in & around a croissant-shaped volcanic crater called Lehua Rock, which looms like a twin brother to Maui's Molokini Crater. Here you'll sometimes find the elusive Hawaiian monk seal. Fewer than 1,000 such seals are believed to survive today. Then there's the windward east-side areas of Nenue Point, Stony River & Pueo Point; & also the fabulous South Point dive. There are still acres of virgin reef to be explored around the eastern shores & the rarely visited west-side leeward sectors of Nonopapa, Puuwai & Opaniau. Ah, the sea spirits that must cavort out there!

The KONA COAST of HAWAI'I -- the BIG ISLAND.
Click here to visit U.S. Dive Travel's colorful new Kona diving page !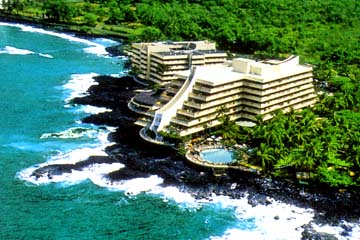 One of the best-value dive vacations in Polynesia
for years to come will be here at Royal Kona Resort,
with ace scuba guides, good local lads in Kailua Kona.
Photo courtesy of Royal Kona Resort, the Big Island.

Perhaps Kona's prime classic site is Turtle Pinnacle, about a mile north of the main Kona Pier, & just a skosh from shore. Here you rarely get skunked on a turtle dive, says Amanda Steenman, a cheerful & savvy diving guide, & former co-owner of Eco-Adventures dive center in Kailua-Kona, who figures she's dived this site more than 200 times.

Here the Hawaiian green sea turtles are typically smaller than the Goliaths of South Kauai, or West Maui, but they are often more plentiful. While I've seen Mack Truck male turtles on Maui that tipped the Toledos at about 250 lbs, here on the Kona Coast you'll find them more in the 150-lb range. At Turtle Pinnacle, the bottom is about 60 feet deep, with the pinnacle crest at 35 feet. What makes this easy dive most fun is the fact it's a turtle-cleaning station. "I love seeing the interaction between turtles & the little sergeant majors & tangs," Steenman says. "Sometimes there are tons of fish hovering over the turtles' shells" - lunching gleefully on parasites.

Another Kona Coast classic is Kaiwi (Kah-EE-vee) Point, in the Pawai Bay area, about half a mile north of the Kona Pier. "It's a gorgeous dive, probably the best corals on the island," Amanda says. "There are lots of fish schools & a nice little archway." Dives here vary from 30 to 100 feet. There's a little something for everybody, from novice to pro. "One time there were 4 or 5 spotted eagle rays in a group, just hanging around us," Steenman recalls. That's something most divers wait a lifetime to see.

You can't reach these special Kona sites for shore diving, because they are located just off protected Hawaiian lands. That makes them a tad more alluring, Kona dive guides agree. Now from daytime to night time delights we go.

The best night dive on the Kona Coast, bar none, & the Big Island's answer to Cayman's Stingray City, is called Manta Madness, just off the Kona Surf Hotel point, south of the village. This dive is in safe, shallow water; & it's not uncommon for half a dozen or more mantas to buzz you playfully for an hour, even with a jumble of stunned divers flashing lamps like mad. This Hawaii diving classic is a certifiable hoot.

MAUI: The VALLEY ISLAND -- Sea Turtle Valhalla.
Click here to visit U.S. Dive Travel's colorful new Maui diving page !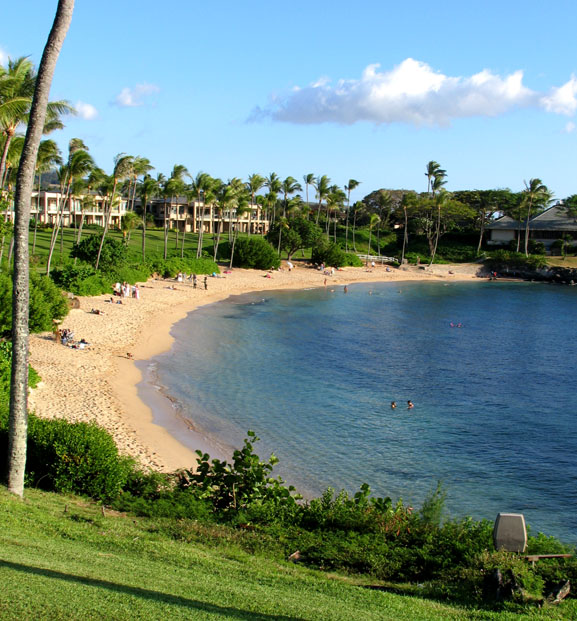 Prime West Maui shore diving & superb Maui snorkeling -- Kapalua Bay.
© Copyright 1995 - 2015, John Hessburg / U.S. Dive Travel Network.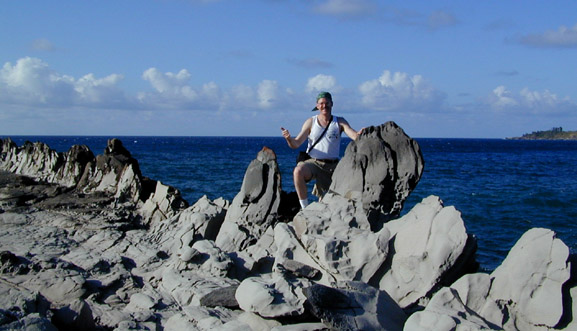 Haole boy needin' a tan, shakin' "shaka bra" at Dragon's Teeth, West Maui.
© Copyright 1995 - 2015, Susan Hessburg / U.S. Dive Travel Network.

---
For fun HAWAII DIVING, HAWAII SNORKELING & HAWAII VACATIONS,
planned with true ALOHA SPIRIT & decades of island expertise,
please feel free to call our USDT reservations office -- 952-953-4124
---
| | |
| --- | --- |
| U.S. Dive Travel Ops Manager Susie Hessburg. | U.S. Dive Travel Gen'l Mgr John Hessburg. |
Maui can match any island in raw turtle action, declares Greg Howeth, an enthusiastic master instructor & co-owner of Lahaina Divers, who has been guiding Maui & Lanai dives for seven years.
"Once I was trying to get an underwater photo & I felt this nudge," Howeth remembers, "but I knew there was no surge. So I looked up & my divers were frantically pointing behind me, waving their arms. Then I turned & saw a sea turtle, 3 feet in diameter, scratching his shell on my tank valve!"

Howeth says he & his divemasters have a nearly 90% success ratio, usually 3 to 7 turtles at a time, on their West Maui turtle dives. The best sea turtle zone runs from Hekili Point north, past Lahaina, to Honolua Bay, Howeth says. From turtles to temps, the delights of Maui diving are many.

OK, time for another reality check. Forget the bluster and blarney of conventional wisdom -- the inside of Molokini Crater is nothing to write home to Mom about. But there are some decent corals way out in the crescent's middle reef, with lurking whitetips & small reef fish. However, the drift dives on the outside of Molokini's rim - now that's another story. Here you can find heady pelagic adventures, reserved only for strong current divers, & well worth a scuba diving day.




LANAI ISLAND DIVING: easily accessed via day charters from West Maui!


A simple story: Microsoft mogul Bill Gates got married here a few years ago. He rented most of the island's lodging for about a week. Lanai never has been the same.

But the hotels & reefs here were resplendent & world class long before Bill & Melinda tied the big knot. We felt powerfully compelled to check Lanai out; & we we did so with gusto -- topside, underwater, on the back-country trails, along the wilderness beaches & way out to the off-road sanctuaries frequented only by Lanai locals.

We timed our visit to Lanai shortly after the Gates Bash & we were astonished by the sheer opulence of the hotels, the extravagant lushness of the two world-class golf courses, the landscaping & architecture, & rooms that seem almost too beautiful to sleep in. Lanai is America's ONLY answer to the world's ultimate island retreats, such as Vatulele Island & the Forbes Island (Laucala) in Fiji, or Lizard Island in Australia. It's hard to believe this beautiful Pacific haven was once a gritty old pineapple farm. But topside aside, the vibrant sea floor off Lanai, one of the two or three best scuba diving destinations in all of Hawaii, is another inspiring reason to visit, to snorkel & to dive.


"There are awesome geological formations that you won't find anywhere else in the world," Howeth says of Lanai's underwater lava sanctuaries. My dives at the Cathedrals, Sergeant Major & Sergeant Minor are among the most memorable day trips I've relished in Hawaii since 1990. Lanai is close to the best coral & cavern setting of any reasonably accessible dive destination in the state. On one free dive last year, I saw a magnificent eagle ray near the 30-foot bottom swim to within three feet of my mask. Then he just parked for a moment & my pulse went ballistic. He must have seen eyes as wide as tank boots. That old ray's ludicrous yet endearing piglet snout was enough to crack up even a British sentry. I will forever associate Lanai with that otherworldly instant in time.


"I've seen up to seven eagle rays at a time at Monolith (another dynamite South Shore site)," says Howeth of his best Lanai diving adventures. "Once it looked like a fighter squadron of airplanes. They were actually in a V formation!"


Howeth observes that Lanai's drawing card is dual: "It's accessible AND spectacular. Usually you get only one or the other in Hawaii. Plus you don't need long surface swims. One time you might find a triton's trumpet, the next time a whale shark. We average one whale shark a year. It's like - what's that huge wreck floating over there. Hey, it's a whale shark! On Lanai, you get these magical days all the time." Even on snorkeling trips, the locals agree.


Hawaii is an island state that, once it grips your fancy, is not likely to let loose any time soon. Yes Virginia, the coral bommies can be far apart in Hawaii, & their life forms are seldom riotous; but it's a bona fide blast hovering over them, maintaining your BC trim in the surge, spying on dozens of tiny fun things happening at once -- shrimp, nudibranchs, neon-vivid wrasses, jittery triggerfish -- all dancing around a coralhead the size of a Volkswagen Beetle. That is the underwater Hawaii we love. And that's why Hawaii dive vacations are such a splendid value, year after year. Hawaii dive packages are cheap, fun & safe. Pure & simple.


Got a hankering yet for more detailed info on any of these topics: Hawaii diving, Hawaii dive vacation, Hawaii dive vacations, Hawaii dive resorts, Maui, U.S. Dive Travel, Hawaii snorkeling, Maui diving, Kauai, Kauai diving, Big Island, Kona, Kona Coast, Kona diving, Niihau, Lahaina, Oahu, Hawaiian vacation, Molokini Crater, Eco-Adventures, Bubbles Below, Lahaina Divers, Hawaii vacations? If so, call us any time at 952-953-4124. We'd love to help.

If you come here, please leave a little more than you take. And believe me, that will be tough. Topside or under the sea, every day that you turn & look around you, Hawaii will confer upon you another life-enriching gift or two. Most of us go home quite deeply in her debt. Every time. Aloha. "Hawaii no ka oi."

"Hawaiian kine ees da best!"




---
For fun HAWAII DIVING, HAWAII SNORKELING & HAWAII VACATIONS,
planned with true ALOHA SPIRIT & decades of island expertise,
please feel free to call our USDT reservations office -- 952-953-4124
---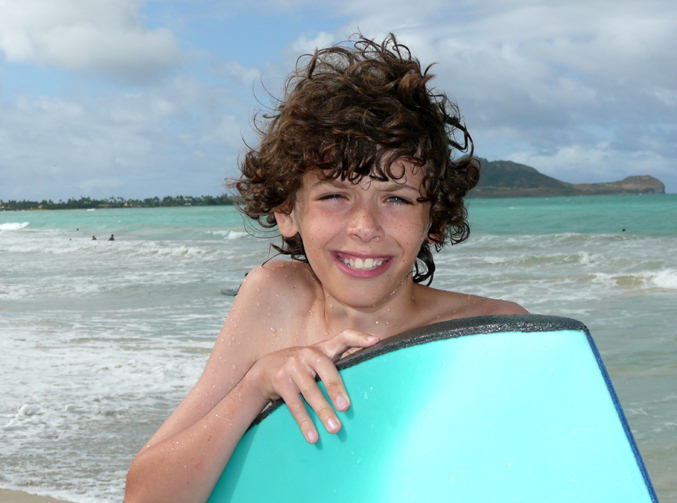 Bo Hessburg takes five after hangin' ten, boogie boarding Kailua Beach on Oahu.
© Copyright U.S. Dive Travel Network. All rights reserved.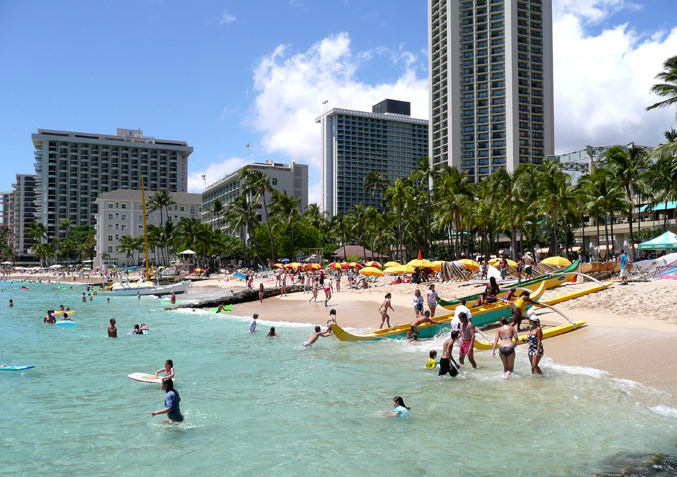 The sweetest Pacific destination for learning longboard surfing -- Waikiki Beach, Oahu.
© Copyright U.S. Dive Travel Network. All rights reserved.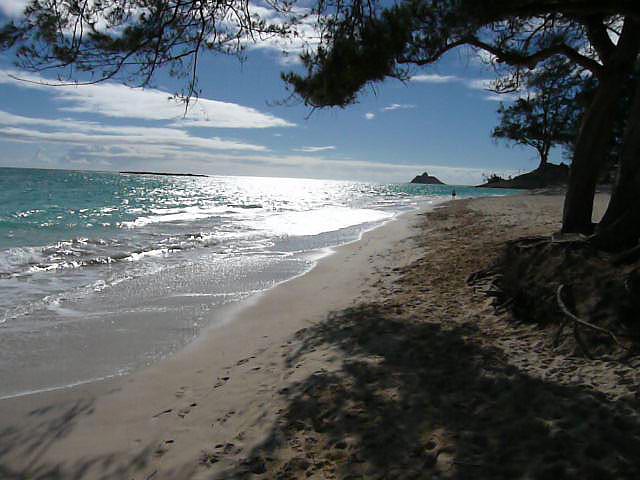 © Copyright John Hessburg, U.S. Dive Travel. ( Kailua Beach sunrise, windward Oahu island, Hawaii. )

---
For fun HAWAII DIVING, HAWAII SNORKELING & HAWAII VACATIONS,
planned with true ALOHA SPIRIT & decades of island expertise,
please feel free to call our USDT reservations office -- 952-953-4124
---
FOR MORE INFORMATION or RESERVATIONS:
Please feel free to contact:
John Hessburg, General Manager
Susan Hessburg, Operations Manager

U.S. DIVE TRAVEL Network
PMB 307 / Suite # 116
15050 Cedar Ave. S.
St. Paul, MN, USA 55124-7047

Voice Mail: 952-953-4124

E-mail: divetrip@bitstream.net
Website: www.usdivetravel.com
******************************************************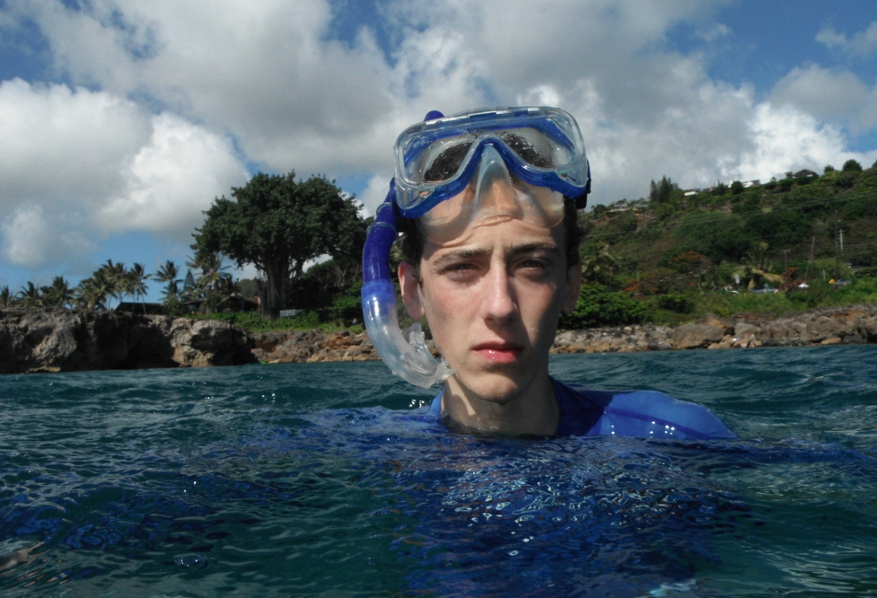 USDT's computer services expert L.J. Hessburg, summer free diving on Oahu's North Shore.
© Copyright John Hessburg, U.S. Dive Travel Network. All rights reserved.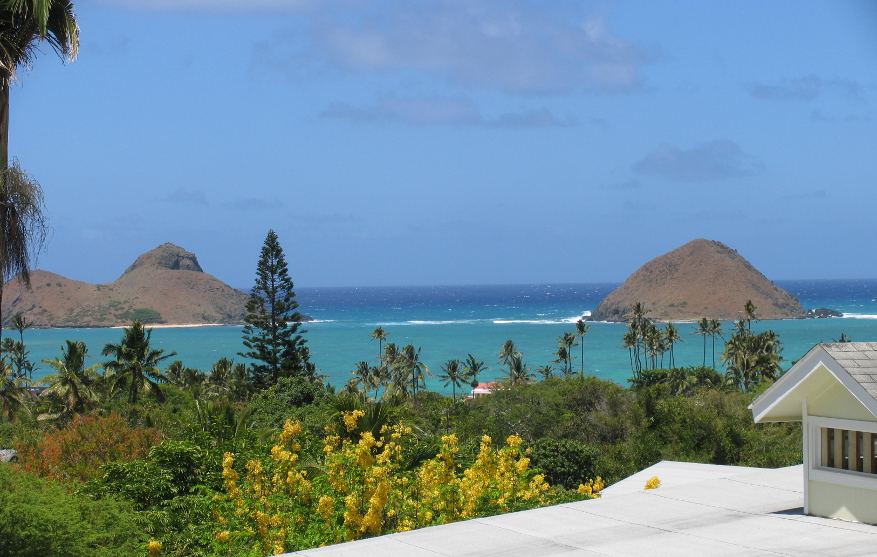 Soul-warming view from the front deck of USDT/West (This memory keeps our souls thawed all workaday winter!)
© Copyright John Hessburg, U.S. Dive Travel Network. All rights reserved.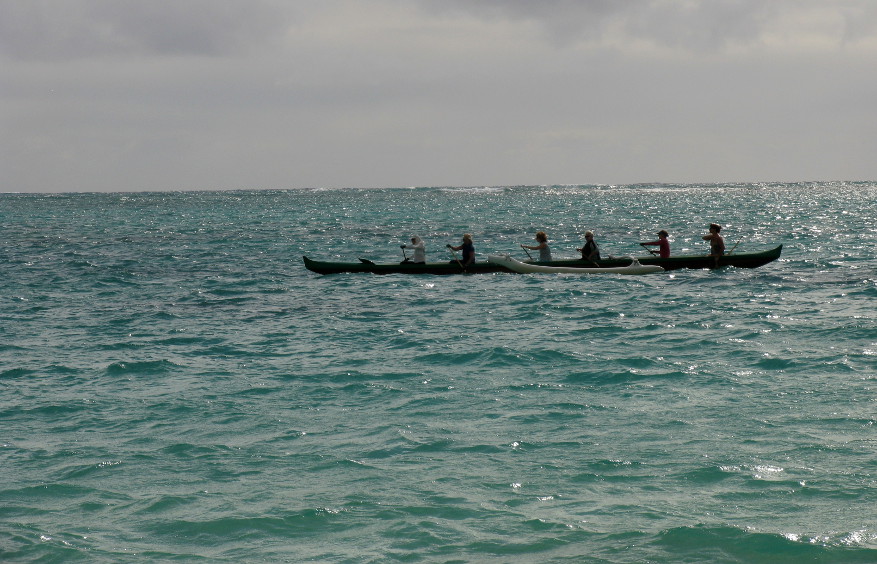 © Copyright John Hessburg, U.S. Dive Travel Network. All rights reserved.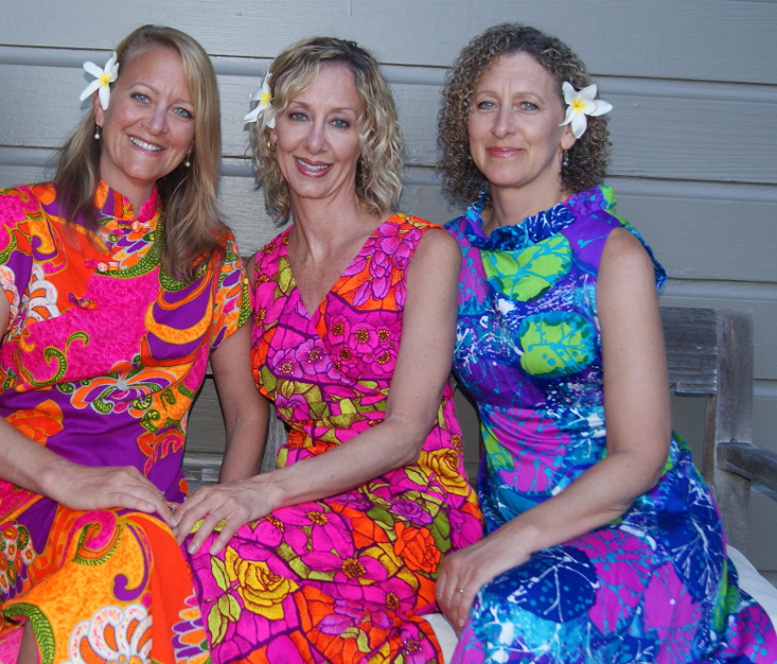 Lovely ladies of O'ahu... USDT co-founder Susan Hessburg (right) + 2 kama'aina sistahs.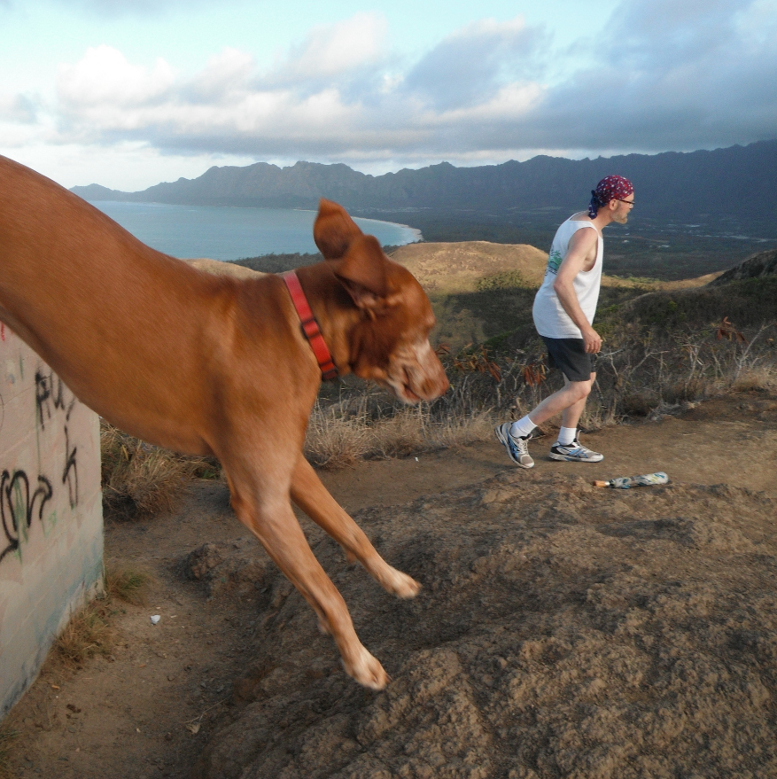 Visla dog joins John's jog at summit of Lanikai Mountain. Ko'olau Mountains in background.
© Copyright Susan Hessburg, U.S. Dive Travel Network. All rights reserved.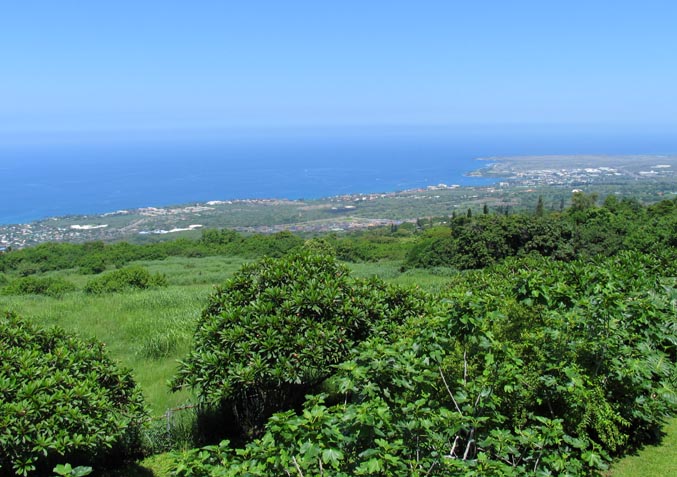 © Copyright U.S. Dive Travel. ( Kona Coast, Big Island, Hawaii, from 1400' elevation at Holualoa Inn. )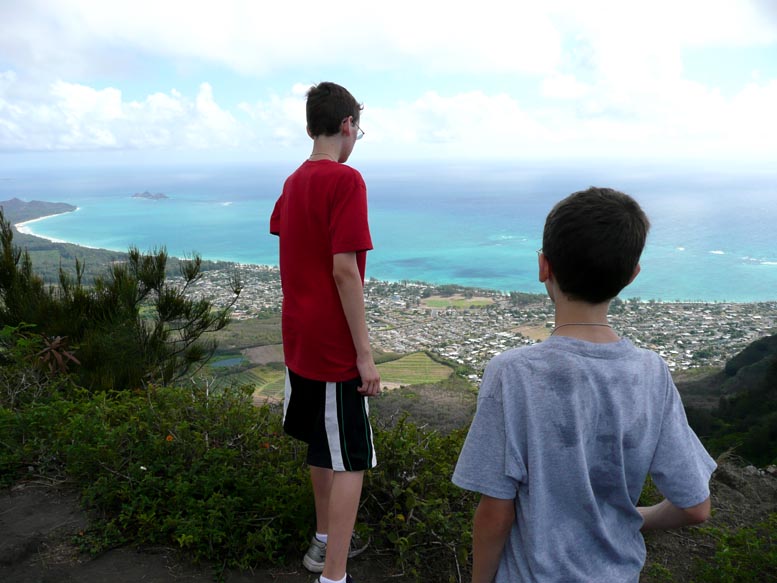 © Copyright U.S. Dive Travel. ( Bellows Beach & Waimanalo, from a Ko'oalau Mountain ridge on windward Oahu, when the yobs were younger. )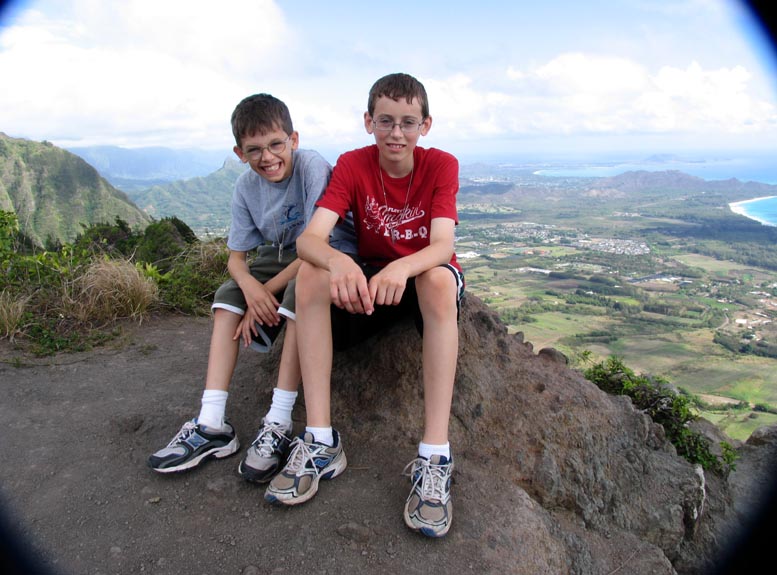 © Copyright John Hessburg, U.S. Dive Travel. ( The future of U.S. Dive Travel:
left to right, Bo & Jack when they were kids at the 1,100-foot summit of Mariner's Ridge, O'ahu island.)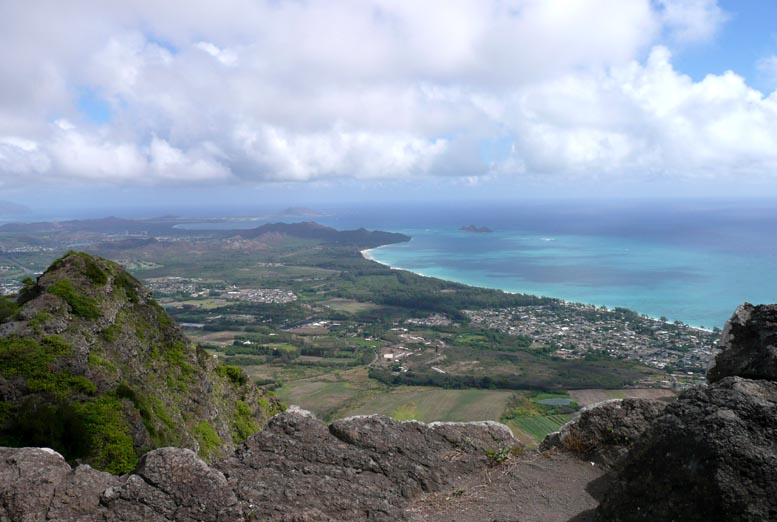 © Copyright U.S. Dive Travel. (Mariner's Ridge at 1,100 feet above windward Oahu. Cool quick hike.)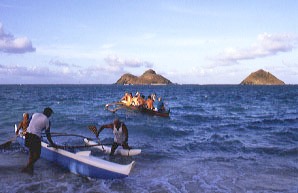 There's still a refreshing sense of Old Polynesia
on the seven main Neighbor Islands of Hawaii.
Both topside & underwater, color is everywhere !
Photo by John Hessburg, U.S. Dive Travel.

IMPORTANT REMINDER about PRICES & TARIFFS:
All dive package prices listed here are subject to possible change in this steadily evolving travel market. Lodging, side tour & diving prices are traditionally stable, while air prices can fluctuate daily. Until air tickets are issued, all airlines reserve the right to change airfares without notice -- an industry standard per FAA rules. We at U.S. Dive Travel will price-protect you to the utmost of our professional ability; & that has been our pledge for one decade now. Our tropical vacation experts normally secure excellent wholesale discount air tickets for our clients who book early enough to secure limited seats in the best price categories. Remember please, the federal government has deregulated all U.S.-based airlines, so only they control their pricing -- not any travel professionals. Early is good when seeking the best air ticket rates.
Unless specifically noted, these above scuba diving packages are prices for only the land-based portion of the dive resorts, in most cases reflecting double-occupancy rooms. At many dive resorts, there will be no triple-occupancy rooms offered. Some exceptions will be noted. International air tickets & commuter "island-hopper" seats are always extra above these land costs. Nominal service fees are also extra for air tickets & the vessel + side tour components. The baseline tariffs for all clients start at $45 per person for the land portion + $25 pp for the air tickets. Late-booking clients may receive slightly higher tariffs on the lodging + diving at many of our dive resorts.
The preferred payment mode for all of our dive resorts, side tours & air ticket specials is by e-check, ACH or conventional wire transfer in U.S. dollars. All clients living outside the USA or Canada will need to pay for their dive vacations via direct wire transfer only. No personal checks will be accepted for the land portion of any reservation. Thank you for your gracious understanding. Our service level is the highest & our prices the lowest in this industry, & thus we need to preserve a reasonable margin. For published-fare air ticket bookings, USDT always accepts Visa & Mastercard.
So if you want to dig further into these topics: Hawaii diving, Hawaii dive vacation, Lahaina Divers, Hawaii dive vacations, Hawaii dive resorts, Maui, Hawaii snorkeling, Maui diving, Kauai, Big Island, Kona, Kona Coast, Kona diving, Niihau, Lahaina, Hawaiian vacation, Molokini Crater, Oahu, Hawaii vacations -- please feel free to call us any time! We would love to help you any way we can.
Best fishes too!
>////*> <*\\\\<
John Hessburg & Susan Hessburg, Mgrs.
U.S. Dive Travel Network.
© Copyright U.S. Dive Travel Network.