The "NATION" of MOLOKA'I:
God's Green Gift to a Stressed-Out Planet.
New eco-adventures & dive vacations in Hawaii.

By John Hessburg & Susan Hessburg
U.S. Dive Travel owners




© Copyright U.S. Dive Travel Network. All Rights Reserved.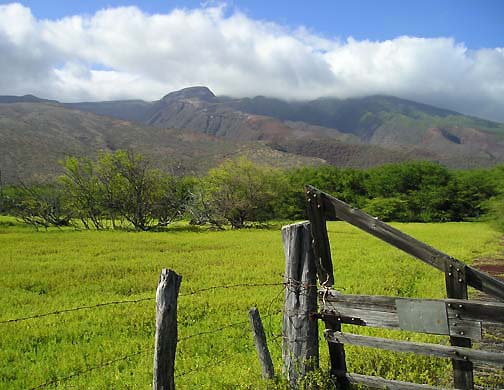 Just before sunset, a Molokai field glows with ethereal light.
© Copyright Susan Hessburg, U.S. Dive Travel.



Over on Oahu island 40 ocean miles to the west, there's a joke they tell about Molokai, which says it all about this friendly Hawaiian island. Here's a typical traffic jam in Honolulu -- thousands of drivers backed up west of town on the sweltering H1 freeway, gritting teeth, all progress clogged from the Airport eastward to the Pali Highway. Scene shift. Now there are two local guys in pickup trucks side by side, elbows out the window, talkin' story on a gravel road east of Murphey's Beach. Sipping sodas, happily oblivious, they are blocking the one-laner entirely. That's a traffic jam on Molokai! And only a clueless mainland tourist would ever honk. The locals merely smile & shine it on. Life's too short, eh. What-evah....
But underneath this laid-back island ethos, something special's about to happen.
At long last, the shy little isle of Molokai is reportedly opening up soon (again) for scuba diving vacations & exotic eco-tours. It's open times come & go over the years... The island is gearing up for visitors as never before -- ready to welcome enthusiasts of mountain biking, ocean kayaking, highland trekking, high-cardio hiking & good ol' beach basking, too. So we are feeling stoked, funseekers, after waiting 10 years for this moment! Molokai is so rarely visited by North American tourists, we sense a watershed moment here for serious snorkelers & scuba divers, who like us are searching for something fresh, sweet-spirited & untrampled, a little wild & yet still comfy. Visually compelling, spiritually invigorating, emotionally healing. That's what we call a "Tropidelic" Hawaii vacation!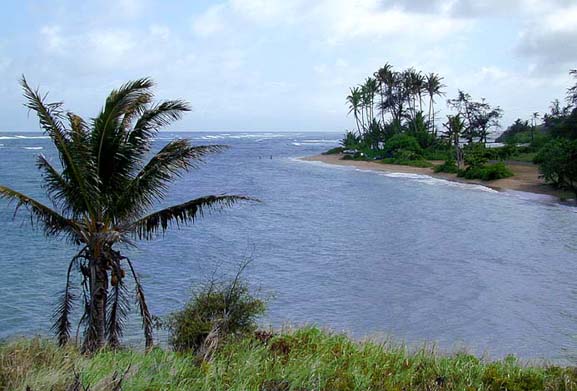 One of Molokai's primo snorkeling sites at Murphey's Beach Park.
© Copyright John Hessburg, U.S. Dive Travel.



If you feel you've already become The Jaded Travel Guru -- "Bendar Dundat" -- hold that thought, amigo. Think you've seen it all with Hawaii scuba diving vacations or Hawaii resorts? Really believe you've sampled every classic Hawaii snorkeling beach already? If you think there's nothing new under the sun in Hawaii vacation packages, please think again. You've overlooked a Hawaiian treasure. We all have.
The magical mystery island of Molokai is like a ripe fruit ready to plop off the Tree of Life, right into your lap. It's yours for the picking, but only if you fly to Hawaii with an open mind & a sunny disposition. Hard-boiled hearts will not be at home here on Molokai, nor will urban stress junkies, nor loud & rowdy party animals. A Molokai vacation is more of a spirit-cleansing getaway than a garden-variety Hawaii resort trip. No show-biz a la wacky Waikiki -- not on Molokai. No barely smiling Honolulu college girls in half-shell-coconut bras dancing imitation hula for blotto tourists at some crowded luau. No shirtless dudes with oiled pectoralis majors twirling fire batons. No comics yammering the same stale Portugee jokes twice a night to beer-swilling mainlanders in loud aloha shirts that no local boy would ever be caught dead wearing.
Molokai is the real McCoy. Here you'll find the soul of Old Hawaii with all the comforts of a New Century. Pretty tricky line to tread these days. Pacific islands like Molokai are rare as 10-carat emeralds in a world that airlines & the Internet are shrinking daily. Then there's the safety matter. For a jittery post-911 America, Molokai is a secure tropical escape from worries about you-know-who doing you-know-what to innocent tourists in planes, pubs & pizzerias. Few islands we have enjoyed in the Mid-Pacific can match this meld of safety, serenity, laid-back locals & eco-exotica.
Now you can enjoy adventure sports & easy eco-tours from sea kayaking to mountain biking, clifftop nature treks & 3D archery, body surfing & whale watching, all on one lush 30-mile-long Polynesian isle. Molokai is the island for "twenty-something" adventurers of all ages -- shameless kids like us who refuse to grow brittle in middle age. We've got something fun for everyone: high-rev cardio tests for the serious trekkers, divers & mountain bikers; or medium-caj adventures for folks who want to rough it in comfort. We've designed soul-stirring vacations that are a little off the wall & well off the beaten path. You get to rest in 4-star luxury at Sheraton Molokai Lodge up the hill, or in posh "tentalows" at Kaupoa Beach Camp, then by day explore the scores of peaks, valleys & jungle byways of this magnificent little isle. Check our extensive list of tropical eco-adventures, village cultural tours, scuba diving & back country sports -- in hot-linked section 2 here below -- all available on this alluring Hawaiian island called Molokai.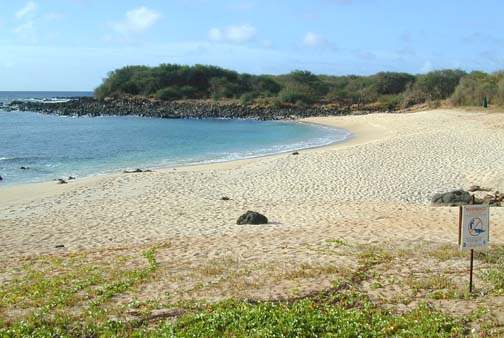 One of two pristine pocket coves at Molokai's amazing
Kaupoa Beach Camp. A Hawaiian monk seal pup dozes peacefully
in the afternoon sun near ocean's edge, right in photo center.
© Copyright John Hessburg, U.S. Dive Travel.




SO HOW do we MARKET a WEDGE of HEAVEN,
WITHOUT GIVING MOLOKAI one MAJOR WEDGIE in the PROCESS?


Big moral dilemma. How does one market an unsullied tropical island like Molokai, without becoming part of the very biz-force we loathe in eco-tourism -- some dollar-driven exploiter of an old world culture, wearing the guise of Beneficent Uncle Green the Savior of Indigenous Peoples Everywhere? We wrestled with this ethical issue for years & then the moment came. Almost as if by happy accident. It's simply time. Several city fathers spoke warmly with us, the hotel people invited us over with a big smile, even hugs. The islanders treated us like ohana kama'aina -- family members born on the land. What can we say, every island has its day. Molokai is poised to enjoy its day in the sun; we can feel it coming, folks... For now, however, we have this island's lodging on ice, with a respectful, patient wait-and-see policy. The Lodge's admin is in flux...

Now you have our plan. It is a clean & simple plan. We want to sell eco-tourism packages, with lodging in resorts on Molokai -- the Molokai Lodge & possibly again the Kaupoa Beach Camp. We want to bring snorkelers, scuba divers & eco rovers over. We hope to do so soon, perhaps as early as Spring 2017 or 2018. Not all -- but many of the people of Molokai have told us they are ready to welcome you, the scuba diving & snorkeling mavens, the mountain bikers, kayakers, beachcombers & hardy hikers too.

But if you're a Big City businessman, bent on hauling in three charter planes a month of hard-drinking tail-chasing table pounders, we will politely decline. If you're a boatload of speargun hunters flying out for a few days of drilling reef fish, & bagging bugs, we will again decline, but less politely.

If, on the other hand, you're young honeymooners from the USA, Canada, Europe or Japan -- from any land where people respect an unpolluted island culture -- or if you're a middle-aged couple on your 20th anniversary romp, or a family with "show-me-the-excitement-dude" teens, maybe an extended family on a big reunion, even 2 dozen dive club buddies from Seattle, or maybe a corporate incentive team from snowbound Chicago who are desperate for sun & blue sky -- how about a bunch of families from your good ol' hometown church on a week's retreat? -- to any of these folks, & many more, we will certainly say aloha nui loa, welcome to Molokai diving, welcome to Molokai eco-tours.

C'mon over & make yourselves at home. Molokai, & we, are looking forward to serving you with some peace & quiet -- sandwiched in between exciting dives & high-country eco-adventures. Alternating adrenaline jags, then lounging, then breath-taking visuals. It's a pretty sweet vacation concept, amigos del mar. We have vetted this island to the nines. We vouch for Molokai. Pure & simple.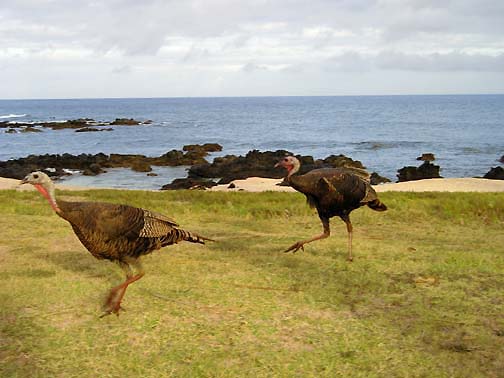 Wild turkeys strut their stuff near Kaupoa Beach Camp.
© Copyright Susan Hessburg, U.S. Dive Travel.



This is U.S. Dive Travel's new chapter on Hawaii scuba diving & snorkeling vacations. We believe Molokai island is the future of Hawaii eco-tourism. Please feel free to call us any time for customized price quotes -- 952-953-4124 . USDT Network will be offering serious discounts to any groups of 12 or more adult travelers -- from corporate incentive groups to dive clubs, dive shops & family reunions. USDT also is prepping special packages at the elegant Molokai Lodge, a unique Hawaii resort for honeymoon & anniversary couples. The Kaupoa Beach Camp on the wild western shores of Molokai is perfectly suited for church & synagogue retreats, or sprawling family reunions -- 40 "tentalow" tent cabins are ready for enjoyment. Kids are always welcome, anywhere on Molokai. This is a family island, A to Z. The standard daily rates for all our new Molokai eco-tours, adventure outings & Molokai Lodge vacations are listed in detail, at the end of this article in section 6 (see hotlinks at bottom of page).

Susan Hessburg, op's manager for U.S. Dive Travel,
grew up in the Hawaiian Islands for 20 golden years.
We've been back 19 times, 67 weeks of exploring.
Hawaii is to Susie as oxygen is to an alpine climber.
© Copyright U.S. Dive Travel.



Ready to return to magical Molokai,
any day, any time at the drop of a hat,
author John Hessburg is smitten. He's
dived, hiked & surfed 7 Hawaii islands.
© Copyright U.S. Dive Travel.
... Click here for PART 2: MOLOKAI VACATIONS !
---