Try a CUSTOMIZED COMBI-ADVENTURE
with WILD ISLAND EXPEDITIONS.

Wild Islands + Wild Highlands =
Vacations to Remember Forever ! TM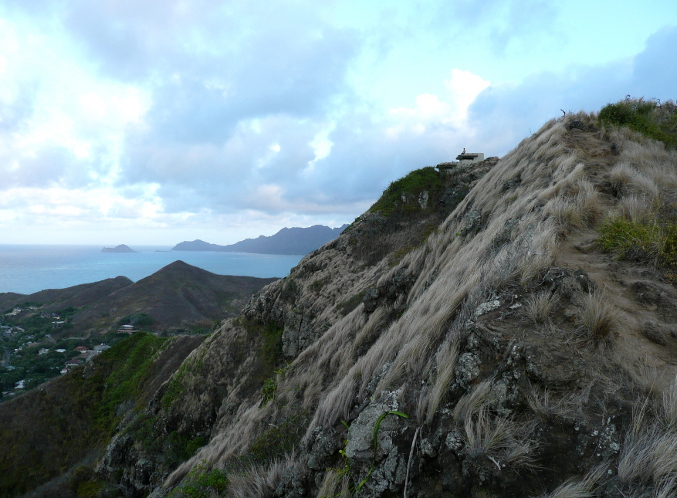 © Copyright U.S. Dive Travel Network.
Are you ready for an all-out break-away
from the hurries, worries & exhaust flurries
of wicked workaday in-your-face city living?

Tired of the same ol' ho-hum vacation --
"take a week off & bask-on-the-beach" routine?
Then we have just the ticket for you, amigos del mar!
Consider a "CUSTOMIZED COMBI-ADVENTURE"
from U.S. DIVE TRAVEL
& WILD ISLAND EXPEDITIONS.
First take a look below... Does this sound a bit familiar?
Q. Are you feeling that you have BECOME your job, that the life-enriching career you envisioned in your 20s has brought you as many disenchanting compromises, & as much joy-draining stress, as it has financial rewards & satisfaction?

Q. Are you putting in too many hours, sacrificing health, sleep & family relationships -- then your boss rips off all the glory for your creative energy? Or worse yet, does that boss ignore your contributions as though you were a mere utilitarian floor tile? Dilbert lives, eh?!

Q. Are you feeling pecked to the bone by the feisty starlings of office politics?

Q. Is stress no longer something that you eat for lunch, but a force that is eating away at YOU? Is stress dissolving your youth, your health, your creative fire? Are you wobbling toward the brink of burnout?

A. Just a second now. Take a deep breath amigo. You are not alone. We have been there. Done that. Never going back again. In fact, that's why we turned away from the downtown grind back in March 1991 & founded U.S. DIVE TRAVEL. So rest assured that you have colleagues here in St. Paul, MN, U.S.A. who understand the lumpy corporate backpack you've been lugging around so long. Now we'd like to fit you with a different sort of backpack -- one where YOU choose the weight, the trail, the vistas & the pace. This is your life, amigo.
We'd be happy to help ease you away from the joyless drill into a fresh new world of Wild Islands & Wild Highlands, via our sister enterprise, Wild Island Expeditions. There IS life after corporations. There IS life after leering Neanderthal bosses & their backbiting little Eddie Haskel henchmen, after years of the gnawing 9-to-5 grind. Believe us! Of course not every boss is a knuckle-dragger, nor every middle manager a mouth breather. But there are just enough irregular people stalking the halls of corporate America that vacations are a lifesaver for most of us.
Only you know the right antidote for you, for Dem Corporate Blues. So we're just here to kindle ideas, jump-start rusty imaginations, fuel some long-filed-away dreams. We're here to serve you. If you think the time is ripe for that sabbatical you've been vowing to take for years; if you're a man or woman with the time, the will, the spirit & the vision, we have a galvanizing proposal for you.
Why not consider an extended leave of absence -- maybe a couple months, maybe more -- to plan a wild once-in-a-lifetime adventure that combines all the life-positive pursuits you love the most, plus the people you love the most? We've been doing just this very thing several times a year for more than two decades. If you want some exciting new ideas for trips, give us a ring. Meanwhile, here are a few wistful ruminations to show you what is possible with a little moxie.


You can phone U.S. DIVE TRAVEL at: 952-953-4124
from 9 a.m. to 5 p.m. Central Time, Monday through Saturday.

Our E-Mail Address is: divetrip@bitstream.net
Our Fax Line is: 952-431-5023.
Our Website:
www.usdivetravel.com

Our Mailing Address:
U.S. DIVE TRAVEL NETWORK
PMB 307 / Suite #116
15050 Cedar Ave. South
St. Paul, MN, U.S.A. 55124-7047.
NEW IDEAS for INTERNATIONAL ADVENTURES
that COMBINE SCUBA DIVING or SNORKELING
with WHATEVER OUTDOOR SPORTS
ARE the ZIP & the JAZZ of YOUR LIFE:

How about a custom adventure honeymoon that combines rugged outdoor play & fine indoor luxury in the same 1 - 2 week trip? Maybe you'll be ocean kayaking a hundred miles along the rocky coast of the Sea of Cortez in early February, camping as you go in the pristine desert, tossing in a few days of hiking, then following it all with a week of scuba diving among the gray whale migration, the hammerhead schools & the playful seal lions near La Paz in Baja California, Mexico. There you'll stay in a cozy seaside resort with a great beach & a view most city denizens would give their left leg to have.


Maybe you'll stay in a luxury hotel in Kailua-Kona each night; then four-wheel drive & hike one long day up to the summit of Mauna Kea on Hawaii's Big Island, do a little snowboarding at 13,700 feet in the morning, then descend & the next day go sailing or deep-sea fishing. Maybe super early one morning you'll drive to the beautiful Laupahoehoe Coast north of Hilo, then hike up some nameless wilderness river & go skinny-dipping in heavenly privacy in a cool tropical pool two miles back from the road in a jungle lifted straight from the pages of "Green Mansions." Then maybe you'll make the beautiful drive back to Kailua-Kona & enjoy an electrifying night dive among manta rays as friendly as puppies. There's only one rule on your honeymoon, YOUR rule: "We can do whatever we want, whenever we want."


Then the followup John 'n' Susie Corollary to this honeymoon rule is: "The WORLD IS YOUR OYSTER, & U.S. DIVE TRAVEL is the spoon."
U.S. DIVE TRAVEL has helped scores of honeymoon couples plan trips so stress-free & satisfying that it's become one of our trademark specialties. We love to work with honeymooners. Making sure you're delighted with the deal, the vistas, the safety margin & the thrills alike -- that is the most satisfying challenge we encounter. You want a honeymoon that flies in the face of the ordinary? You've got it! Are you keen on the South Pacific, anywhere among the Hawaiian Islands, or South America? Then give us a call. U.S. Dive Travel can craft an adventure you'll remember forever.


How about a reunion of family or best friends -- kind of a "Big Chill Under the Hot Sun" -- on the Kona Coast, on Maui or Kauai, in Baja, Belize or the Bay Islands of Honduras? Folks can take their significant others & everybody shares a great buffet breakfast in the morning, then does as they please during the day, then you gather in late afternoon for the big communal meal, & later some romping nightlife? For those who want scuba adventures, we can arrange them in a wink. Those who want to go hiking, sea kayaking, snorkeling, sailing or deep-sea fishing, we can facilitate those side tours, too. Everybody enjoys the same great discounts on air tickets & lodging.


How about a Custom Adventure Getaway? Imagine this -- with our guide if you wish or on your own -- you take a leisurely trekking pace (maybe a week, maybe 10-12 days) to hike up to the spectacular summit of Mount Chimborazo, a massive snow-clad volcano that towers 20,702 feet above the Andes of Central Ecuador; & from which on a clear day you can relish one of the most breathtaking panoramas in the Americas. Then after your summit victory you drop back down to Quito for a few days of strolling the back alleys & markets to enjoy Quechua culture, to cruise for indigenous artifacts & savor outstanding ethnic meals. Then you fly about 600 miles west out to the world-renowned Galapagos Islands, where you can board one of several luxury live-aboard yachts for inspiring eco-tours (diving & photo shoots) from 7 to 11 nights.


Then again imagine this trip. Let's say you gather a gang of old college buddies & you head to the renowned Altiplano city of La Paz, Bolivia during the ideal Andean winter weather of May & June. There we'll guide you, or we'll connect you to an outfitter who'll drive you by Jeep back into the wondrous Cordillera Real to meet your llama herders. Then you hike with a train of trusty llamas up & over 15,000-foot passes into hidden valleys that might see outsiders only a few times a decade. The Aymara Indians are kind & gracious & you'll feel fully welcome as you explore some of the purest alpine terrain on earth. Here life is so simple & clean you may never want to return home. It happened to us. We still remember those valleys with deep emotion, & a longing too.


You'll be in the back country a couple weeks, so you pack in all your food & gear on the sturdy llamas, sleep in roomy tents beneath skies so clear & star-studded you can hardly believe they're real. You will camp beside some of the most pristine alpine rivers in the world, breathe air so pure it makes you sing, & take day hikes or two-day technical climbs to the summits of countless peaks, many of them unclimbed or seldom climbed.



After a spirit-expanding trek you return to La Paz, take a train across the forbidding Atacama Desert into northern Chile, then meander by bus down the stunningly beautiful Chilean coast for a couple weeks, stopping to scuba dive for abalone & to enjoy the warm-hearted country people & their hospitality.


How about this one? Take a couple months off, January & February, the ideal time to hike & climb in the gorgeous Mendoza region of the Argentine Andes. Maybe you want to try climbing the daunting Cerro Aconcagua, at 22,834 feet the tallest peak in the Western Hemisphere, with a very do-able 10-to-15-day standard route to the summit. It's a rugged mostly non-technical hike on snow & scree & rock, with a decent trail much of the way when the weather holds.


Then feeling as fit as a cougar after your life-changing arrival on the highest piece of ground anywhere in the Americas, you could head back down toward the Chilean border for some fine summer alpine skiing. Later you might enjoy the outstanding cuisine & wines of Mendoza city, then maybe a long bus ride down to the Swiss-like alpine lakes near Bariloche in the Argentine Andes.


Then you might top it all off with a side trip up to Ilha Grande in Brazil, or maybe to Los Roques off the north coast of Venezuela for some soul-expanding scuba dives among big critters, enjoying warm water with viz up to 200 feet!


Or maybe your pleasure is a flight down to Tierra del Fuego for some of the most scenic & pleasant wilderness hiking on the planet. Imagine hundreds of square miles of almost zero underbrush, crisp cool air as clean as it was a century ago, lovely peaks only 3,000 to 4,000 feet above sea level that you can scale in perfect day climbs from camp, with heart-&-soul-massaging views of the coastal islands & fjords.


Then you get the bug to move again so you fly north to Brazil, maybe to Salvador do Bahia, or Recife, maybe to the epicenter of Brazilian diving at Ilha Grande & Ilha Jorge Grego (about 65 miles south of Rio) for some mellow warm Atlantic scuba diving & body surfing & some of the sweetest people in South America.


Or maybe you decide to fly from Argentina up to Venezuela, one of the most geographically amazing countries on earth, where you drop into Margarita Island to experience the famous scuba sites of Bird Rock & Mucura Coral Reef. Later after a relaxing week of soaking up reef color & sunshine, you take a short hop over to Aruba, Bonaire or Curacao to round off your quest in the lap of South Caribbean waterfront luxury.
So it's clear from these musings that...
The World is your Oyster & USDT is here
to help you grab it & savor it!
A wise old track coach used to say, "There are two kinds of runners: those who are fast; & those who are half-fast." What'll it be amigo?
If you're interested in
retaining the services of
U.S. DIVE TRAVEL NETWORK
for a "CUSTOMIZED COMBI-ADVENTURE"

Phone us in St. Paul, MN: 952-953-4124.

E-mail: divetrip@bitstream.net
Please take a look at this list of easy procedures we follow to ensure our communications are accurate & productive -- for both you & U.S. DIVE TRAVEL:

1. Fax or E-mail us the names, mailing addresses, contact phone numbers, E-mail addresses & ages of all parties interested in the trip.

2. Also please fax us your expected dates of travel & destination ideas. Give us a thumbnail outline, including the relative level of diving, trekking & adventure experience each person has, so we can hit the deck running. The more info we have, the better we can attend to your safety & comfort.

3. Please give us a good idea what budget limits you require. Don't be shy; you're the boss. We're impressed with people who know what they want & who make clear decisions, not folks who throw money around like confetti. There's a sign above the main desk in our office where the boss sits. It shows John on a summit with his best friend Bonz Shaw (a thrifty son of a Scotsman); they are exultant & hypoxic & the sign reads simply, "Cheap is Good." No airs around here. You want magical luxury? We can get it in a wink. But we'll always chime in our advice first on how to save more & worry less. After nearly 30 years of traveling this lovely orb on a tight budget, we know how to save you money.

4. During low season (May through October), we will call you within 2 days to follow up your initial contact with fact checks. During high season, there may be delays of 5-7 days before a message is returned, due to the unexpectedly high volume of client inquiries that the USDT website has produced. If you have a particularly urgent need for information, just call us directly & we can "blue-tag" a proposal for you, for an additional service fee.

5. Apart from our standard dive-travel packages, U.S. DIVE TRAVEL operates as a guide service & an adventure-travel consulting firm. We have more than a century of collective international travel experience, & a couple dozen countries visited, under our partnership belts. Therefore, just as experienced attorneys, surgeons, CPAs & business consultants charge by the hour, so do we. We charge $80 to $100 per hour for trip research on all custom itineraries. This research fee is applied conservatively & equitably to all clients. This research fee is higher for groups larger than 12 people, or for long itineraries of special complexity or risk management.

6. Our guides are paid a standard per diem fee, plus all travel expenses; & USDT also charges the regular research fee & taxes. Call us at 952-953-4124 for more details.

7. USDT normally offers prospective clients two free hours of initial research, to help you jell your ideas comfortably. Then once we fax or E-mail you back after the initial research to give you a status report, we'll ask you whether you're interested in committing to a CUSTOMIZED COMBI-ADVENTURE. These projects are long on TLC & valuable staff hours, so we try to avoid misdirected time. That saves your nerves & ours.
8. U.S. DIVE TRAVEL NETWORK requires a non-refundable deposit of at least $700 per person within 7 days of client commitment. (Click back to our front page & then click on the "Facts About USDT" hot link, for a look at our payment & cancellation Terms & Conditions.) The full research fee is due within 10 days of our final written report reaching the client. This report presents all land & air cost estimates, plus schedule & travel options. Then 70 days before departure, final payment is collected. We will send out your air tickets, land vouchers & support documents in a registered mail packet, return receipt requested, normally no later than four weeks before your departure.
9. If you live anywhere in MN, WI or the Dakotas -- or you find yourself in St. Paul on business -- & you want to arrange a special meeting, we are more than happy to assign up to 2 hours of one staffer's time any work day between 10 a.m. & 4 p.m. Just give us at least two week's notice & we'll arrange the meeting, complete with photos, maps & support materials. All client meetings are by appointment only.
10. Finally, you get the Hessburg Hat Guarantee. Can't beat this, amigos. If you can prove that your trip was an utter bomb, & you were unhappy to the quick, just go purchase the hat of your choice overseas & when you return your agent will eat one bite of that hat right before your eyes, while the video cameras roll. Thus far in three decades of world travel, Susan & John Hessburg have picked dental floss, quinoa grains, desert sand, storm-blown alpine grit, herring ribs & seaweed out of their teeth -- but still not one tiny molecule of hat. Thank you Lord for small blessings. And a vigorous thank-you to our many good repeat clients, for your faith & confidence & your business. It's been a great time helping you all!

Take care & call us if we may be of service. Yours in deep seas & high adventure....

Susan Hessburg & John Hessburg
Mgrs, Founding Partners
U.S. Dive Travel Network.


E-mail: divetrip@bitstream.net



© Copyright U.S. Dive Travel Network.